We live in an age where having an established credit history matters. Maintaining a respectable credit rating is vitally important in many areas of your life.
Your credit is routinely checked, for example, when you secure a loan, rent an apartment, and it can even help to lower your insurance rates. It's also not uncommon for employers to run a credit check as part of a background check when considering you for employment.
What do you do then if you are just starting out in life and you don't have any credit history? What then?
* record scratch *
If you are just getting started in life and you have never had a loan, credit card, or anything else that requires payments, you most likely don't have a credit history or credit score. If someone tried to run a credit check on you, it simply would not return anything.
All is not lost. There are some things you can do to establish and build a credit history. By being proactive, you can very quickly build a solid credit rating and be well-positioned for your first credit check.
Here are several things you can do to establish and build your credit:
How to Establish Credit with No Credit History
Building credit can be hard when you don't have any credit to begin with. This is where credit building debit cards and secured cards can really help you build credit and more importantly — good credit habits.
Build credit with a secured credit card
Another one of the easiest ways to establish credit is to obtain and use a secured credit card. This is a credit card you obtain from either a bank or credit union that is backed by money you deposit in an account. You are allowed to charge up to the amount held in the account.
If you obtain a secured credit card such as an OpenSky® Secured Visa Credit Card, for example, and deposit $1,000 against it, you then have $1,000 in "credit" you can use.
A secured credit card protects you from spending more than you can afford, and when you eventually decide to close the account, you get your deposit back.
After acquiring a secured credit card, the best strategy is to use it only for your normal living expenses (tanks of gas, meals out, groceries, etc.), and be sure to pay down the balance in full each and every month.
When inquiring about a secured credit card from a particular bank or credit union, find out whether they report your payments to the credit bureaus. Some do and some don't. Since the idea is to establish and build your credit, you definitely want to obtain a secured credit card from a place that does report your payments as OpenSky® Secured Visa Credit Card does.
OpenSky® Secured Visa Credit Card
The OpenSky Credit Card is a good credit card for people with a bad credit score who want high approval odds more than they want rewards. The OpenSky Card is worth its $35 annual fee because it has no credit check for new applicants and it helps cardholders build credit.
Apply Now
Build your credit with a debit card
Another thing you can do is build credit with a debit card in order to help your credit score.
If you need help building your credit, you can try using the Extra Debit Card — a new company that makes credit building easier and accessible while also providing the same features and benefits as your everyday debit card.
Extra uses your spending to build up credit with major credit bureaus.
What Extra does is make you look like less of a risk to lenders by taking your transactions and reporting them as timely payments, also known as positive information.
They report this positive information on a monthly basis, which can help you build your credit score. You can see the pricing page here, but current pricing is $20/mo or $149/year for Credit Building. Or $25/mo or $199/year for Credit Building + Rewards.
Build your credit with a debit card
Extra
Extra's mission is to make credit building safer and more accessible for everyone with the first debit card that builds credit and earns reward points. The Extra Card is an ideal choice for those who cannot meet the requirements of standard credit cards but are aiming to improve their credit scores.
GET STARTED
Build your credit for free
Grow Credit is dedicated to lowering the barrier of entry for millions of Americans who need to establish and build credit by allowing customers to automatically pay for their subscriptions through an interest-free virtual MasterCard.
It is one of our favorite credit building apps. You can use your Grow card to pay for recurring subscription services such as Netflix, Hulu, Amazon Prime, Spotify, and many more — which contributes to a better credit score.
0% interest and completely free with no security deposit required for qualifying customers
No prior credit history required and no minimum credit score
No hard credit check; underwriting is determined based on recent banking activity
Reported to all three credit bureaus (Equifax, Experian, and TransUnion)
Current users are saying that it works:
"My FICO score has jumped 20 points in a few months of using Grow, so I'm on an upward trend of credit growth and repair. Easy to set up with my current subscriptions as the virtual credit card makes it seamless."

– Jamie H.
Grow Credit currently offers four plans. The Build plan is completely free, and there is no obligation to upgrade to a paid account at any time.
If you're interested, you can apply here for a Grow Credit interest-free Mastercard and get started by connecting your bank account.
Build Credit with Bills or Subscriptions
How To Build Credit Fast: 7 Simple Strategies
These next few tips can really help your financial life even if you have less than perfect credit.
Step 1: Pay all your bills on time
It should go without saying that in order to establish and build credit, you need to make all of your payments on time each month, preferably before the due dates.
It's these timely payments that build a good credit rating. Missed payments, on the other hand, can work against you and actually harm your credit score.
Make sure you have your savings account or checking account set up to automatically pay your bills on time with auto-pay.
Step 2: Don't sign up for a bunch of credit cards
Before we explore the ways you can establish credit, it's important to discuss one thing you don't want to do if you currently don't have a credit history. It's almost as ludicrous as cutting up your credit cards. What is it? You definitely don't want to sign up for a bunch of credit cards.
If you try to acquire credit cards without any credit history, you may be denied. This could actually hurt your credit rating since hard credit checks will be run for each card you apply for.
It would be wise to only sign up for secured credit cards or debit cards such as Extra or Grow Credit that you know you'll likely be approved for, which we covered above.
Step 3: Apply for a student credit card if you're a student
Another option for establishing credit is to apply for a student credit card (if you are a student). Student credit cards are easier to qualify for than regular credit cards with income requirements that are usually not very high.
The main downside to student credit cards is they typically do not have very high credit limits. Still, you can use one of these cards to establish credit by using it for small purchases and paying off the balance each month.
Step 4: Take out a small loan from a bank or credit union
Another way to establish credit is to take out a small loan from a bank or credit union and then repay it over time. This is what I did years ago when I was just starting out in life, and it worked very well.
When you talk to a loan officer, be honest about what you are doing. When asked about what you need the money for, just tell the truth, that you are doing this solely to establish credit. Don't make up some wild story about your grandmother being sick and needing the money to pay for medical expenses (or some other wild tale).
You can also offer to open a savings account at the bank you are seeking the loan from and depositing the money in that account so they will know it's safe. Tell them you will only withdraw from the account to make the monthly payments on the loan. This will help to positively influence the loan officer's decision.
Step 5: Consider using a co-signer
Another way to acquire a loan (if necessary) is to ask someone to be a co-signer. A co-signer with a good credit rating makes securing a loan much easier.
Most people are understandably wary of co-signing a loan if they don't know you very well. Because of this, it's best to only ask someone who knows you well and trusts you to make the payments, like a close relative.
Step 6: Apply for an unsecured credit card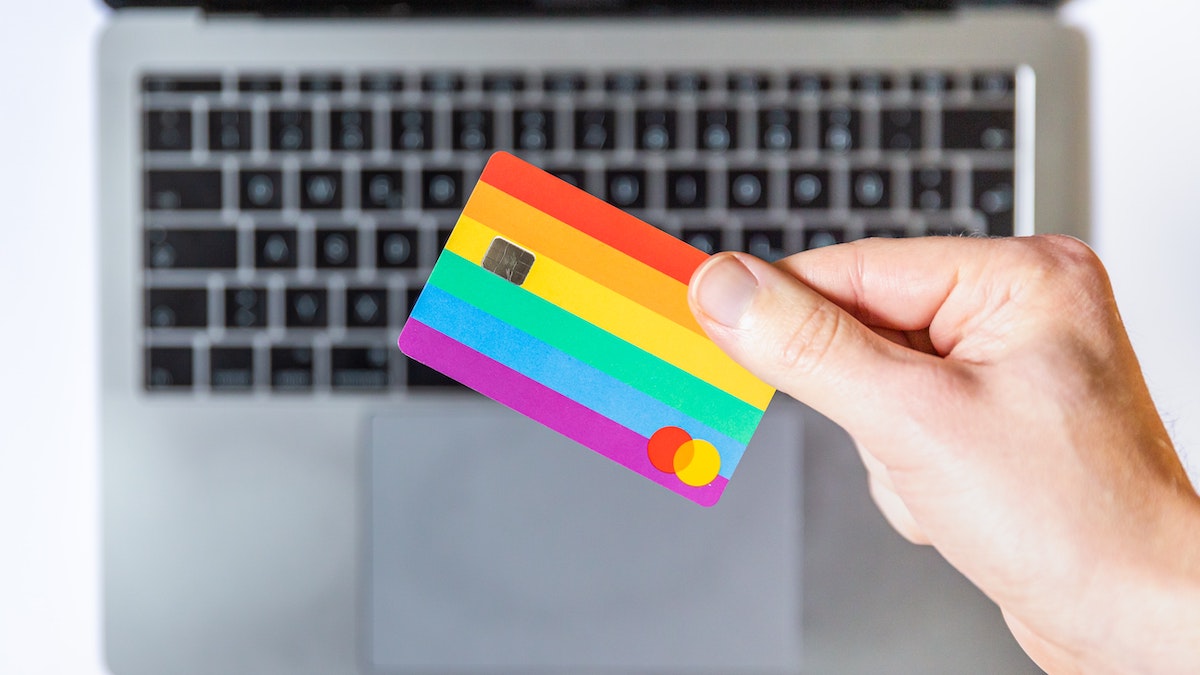 It doesn't take long to establish a credit history. At least a year of timely payments should do the job. Be sure to check your credit score with the credit bureaus after a year of using a secured credit card or repaying a small loan to see where you are. If everything looks good, consider applying for a regular unsecured credit card.
Simple Ways to Add Tradelines to Your Credit Report
A trade line is a record of activity for any type of credit extended to a borrower and reported to a credit reporting agency. For example, a mortgage loan is a tradeline, a credit card is a tradeline and trade lines are used by credit reporting agencies to calculate a borrower's credit score.
Most creditors look at tradelines to determine if you are creditworthy, therefore, adding positive tradelines to your credit report comes in handy to improve your credit score. Some people are even buying authorized user tradelines to get their credit score back up, however, it is not the only way.
Pro-Tip: You can also add an authorized user tradeline on a primary tradeline. If you have a primary credit card, you can get someone authorized to post a tradeline on your credit report or vice versa — someone can put you on as an authorized user if you have a good credit score through a reputable site like Tradeline.
No credit check
Creating a new credit account
Opening a new credit account automatically creates a new tradeline which allows you to have a positive record on your credit report. Also, increasing the number of total available credit lines can boost your credit score only if you are responsible for the payments.
Factors that determine your credit score include the type of credit you have in your account like mortgages, credit cards, etc. and the difference of how much money you had in that account and how much money you used. Where creating a new credit account can help you gain a positive credit score, it can quickly destroy it too if you are not careful with the usage.
I always advise people not to go for this option if they already have good credit from different sources. Your focus should be to go for quality rather than quantity. If you stay below the limits of your existing credits cards, the chances are that you won't need to open new credit accounts.
Adding an authorized user tradeline
By far, the most efficient method of boosting your credit score is by adding authorized user tradelines to your credit report. The difference between a primary tradeline and authorized user tradelines is that a primary tradeline is handled personally by you and an authorized user tradeline is an account opened and managed by someone else.
This process is called piggybacking, which involves adding someone with good credit history on your account, and in turn, it gives a positive influx of credit and payment history.
Add a pre existing account to your credit report
This is one of the handiest and least risky ways to add tradelines to your account. Quite simply, you can ask a parent, a relative, or a close friend to add you to their account. This will allow you to benefit from the other person's positive payment history. However, you can do damage to their credit history if you are not careful and they can in-turn damage yours too.
You can also confirm that all your current and existing accounts are listed on your credit report so that whenever you successfully pay off a loan, creditors know about it. All your previous loans, mortgages and credit cards need to be listed on your credit report to get the benefits of a positive score.
How to Establish Credit Fast
Having a solid credit history isn't just about having a high credit limit on an unsecured credit card. It's much more than that. It means being able to pass a background check for a job, qualifying to rent an apartment, and keeping your insurance rates as low as possible.
It means having power – credit power.
You can also start by simply checking your credit score. By checking your credit score you can work to fix any discrepancies by removing closed accounts from your credit report. Then work on building it higher so you can pay less in interest, combat debt, and increase your credit score.
If you don't know your credit score, you can use free services like Credit Karma which gives you your score for free. You can find out your score in under a minute!
Credit Karma
See your free credit scores, reports and personalized tips and tools to help you achieve your financial goals. Start making progress today.
SEE YOUR CREDIT SCORE
We earn a commission if you make a purchase, at no additional cost to you.