You've probably heard the term "net worth" thrown around a lot when it comes to talking about someone's financial wealth. This complicated term, however, isn't necessarily all that involved. Once you know what it describes, you can begin to understand why it might be useful.
In this article, we'll introduce you to the basics of net worth, along with how to calculate your own based on your financial obligations. But the advice doesn't stop there. We'll also introduce you to quite a few apps that can help you track your net worth, as well as some that will even help you to improve it.
What is Net Worth?
Personal finance doesn't have to be difficult to understand. For anyone seeking independent financial advice, tracking your net worth is important.
Net worth is the difference between your assets and your liabilities. An individual's net worth can be described as positive or negative. Your income, however, is not a factor in determining your net worth. Businesses and countries can have net worths as well.
When it comes to net worth, there's no magic number that you're striving towards. Rather, net worth is key to learning more about your financial status in the present, as well as identifying how you can improve your net worth (and financial health) in the future.
How to Calculate Net Worth
To calculate your net worth manually, list out your assets and liabilities in a spreadsheet divided into two columns. Write down the exact amounts if you'd like, but round estimates can work as well. It all depends on how closely you want to track your net worth.
Here's an example of what your spreadsheet might look like:
Assets

Liabilities

Checking account balance

$1,500

Car loan

$5,000

Savings

$400

Student loans

$20,000

Retirement

$3,500

Credit card balance

$2,000

Total

$5,400

Total

$27,000
Once you've totaled everything up, subtract your liabilities from your assets. In the example above, we'd have:
$5,400 (assets) – $27,000 (liabilities) = -$21,600 (net worth)
As you can see, this person's net worth is negative. That's okay! Remember, net worth is not an evaluation of you, but of your financial status. It's certainly a way to identify places where you can change your money habits, but don't take a negative net worth to heart.
If you're not much of a spreadsheets or numbers person, you can also use net worth trackers. Simply enter in your financial accounts allow the apps to calculate your net worth for you. We'll go over these apps below.
But let us recap — why would you track your net worth?
Why Track Net Worth
Whether you're talking about businesses or individuals, determining net worth is a way to figure out where you can allocate more effort when it comes to finances. Think of it more as a diagnostic tool than anything else.
How to Track Net Worth
If the thought of tracking your own net worth triggers your anxiety, put your fears at ease. There are a ton of apps out there ready to help you. They'll get down to the nitty-gritty so you can focus more on better financial habits.
Partner
Bank
Rating
Fees
Best for
Pros
Cons

Personal Capital

 

★

5.0

/5
Free
Free, Automated Net Worth Tracking
No cost to you to track your finances, integrates with Zillow
Doesn't integrate with some retirement accounts

Betterment

★

5.0

/5
Free with 0.25% annual fee
Investing Integration

Free account, m

anages investments passively
Annual fee higher than some other financial apps

Monarch Money

★

4.5

/5
$9.99/month or $89.99/year
Collaboration with a Partner or Financial Advisor

Integration tools make tracking net worth easy, s

yncs to a wide variety of accounts
Monthly cost

Tiller Money

★

4.0

/5
Free trial for 30 days then $79/year
Spreadsheet Net Worth Tracking

Spreadsheets galore, c

ustomization to the max

No mobile app, n

o credit score monitoring
Let's take a closer look at each application to see how it can help you track your net worth.
Best for Free, Automated Net Worth Tracking: Empower
Spending money on watching your money might seem like two steps backward, rather than one step forward. That's why we've included Empower on our list. It's a free net worth tracking app that can help you take control of your financial future.
Empower links to all your financial accounts and lets you track both your income and expenses. You can easily categorize these two components as well. There's also a retirement planner, as well as tools for evaluating investments. Empower is highly automated, and in fact integrates with Zillow in order to real-time update the value of your home.
Fees
Free
Pros
No cost to you to track your finances
Integrates with Zillow
Cons
Doesn't integrate with some retirement accounts
Empower
Take control of your finances with Empower's personal finance tools. Get access to wealth management services and free financial management tools.
SIGN UP FOR A FREE ACCOUNT
Best for Investing Integration: Betterment
If you're looking for another free app, Betterment is a great investment tool that can also help you track your net worth. Betterment includes robo-advisors that quiz you about how much risk you want to take on, as well as what your goals are.
Betterment has one of the best net worth dashboards — that gives you a bird's-eye-view of your finances so you can see your net worth. You can include any money you might have with other institutions and connect joint and trust accounts to track shared money.
You'll see your total earned dividends, tax losses harvested, and more. You can also stay on track with your goals, and make adjustments if things change. Finally, you'll be able to see money movement and track your deposits, spending, and transfers.
One of the best features of Betterment is that it automatically invests your money so you don't have to keep track of the stock market. There is a 0.25% annual fee for accounts totaling under $100,000, but the free aspect does make it worthwhile.
Fees
Free with 0.25% annual fee if choose to invest
Pros
Free account
Manages investments passively
Cons
Annual fee higher than some other financial apps
A popular robo-advisor for good reason
Betterment
Betterment is one of the pioneers of the robo-advisor approach to investing. After more than a decade in the business, we believe that no other platform offers as much value to its customers as Betterment.
READ REVIEW
Best for Collaboration with a Partner or Financial Advisor: Monarch Money
Monarch Money kicks things up a notch by linking practically all your financial accounts. You can link bank accounts, credit cards, loans, and any other assets you might have, such as retirement accounts. Monarch Money will sync with these accounts to bring you real-world account management.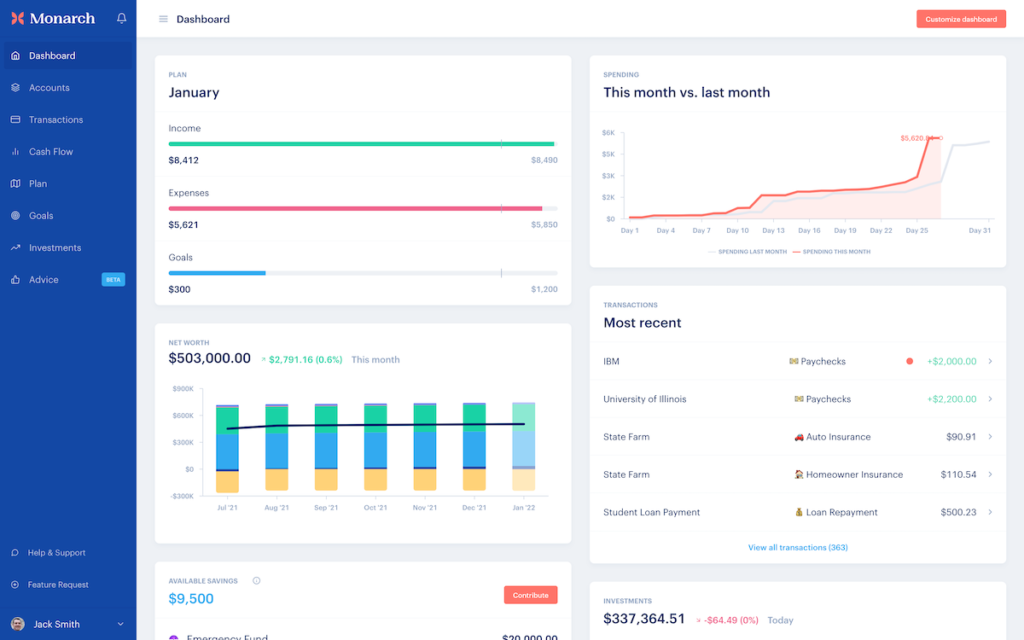 You can easily share this data with your partner or with a financial advisor.
Monarch Money is available on web, iOS, and Android. You can sign up for a free trial, but you will have to sign up for a plan after that. Customization is possible with your accounts, so you can easily track your investments, spending, and net worth.
Fees
$9.99/month or $89.99/year
Pros
Integration tools make tracking net worth easy
Syncs to a wide variety of accounts
Cons
Monarch Money
Managing money can be complicated. Track all of your accounts in one place, collaborate with a partner, and create a long term plan to achieve your goals. Get personalized advice along the way.
SIGN UP NOW
MONARCH MONEY REVIEW
Related: Monarch Money Review: Managing Your Money Made Easy
Best for Spreadsheet Net Worth Tracking: Tiller Money
If you're a spreadsheet fanatic, Tiller Money is the app for you. There are countless templates available, as well as plenty of tools to track your net worth and the rest of your financial assets.
The spreadsheets you create can be downloaded to Google Sheets. However, Tiller Money will automatically fill out a spreadsheet with your transactions so you can see your balances laid out in categories.
Besides the ability to use spreadsheets, Tiller Money allows you to put your own spin on tracking your finances and net worth. Plus, you can use as many sheets as you want, so you can separate personal finances from business, if necessary.
Fees
Offers a free 30-day trial and after 30 days, Tiller is $79/year
Pros
Spreadsheets galore!
Customization to the max
Cons
No mobile app
No credit score monitoring
Tiller
Your financial life in a spreadsheet, automatically. Keep a clear view of your money and track all your finances in one place, with everything customizable and no ads.
TRY TILLER FREE
Best for Tracking Traditional & Crypto Portfolios: Kubera
Cryptocurrency has become more popular recently and it's one of the reasons why we've included Kubera on our list. It can track traditional and crypto portfolios. Kubera supports all major stock exchanges in the US, Canada, UK, Europe, Asia, Australia and NZ.
Get the latest balances from all major crypto wallets and exchanges, and even see the latest price of your NFT collection.
This app is best for tracking just your net worth, which can be both good and bad for some folks. It's great if you're wanting a distraction-free app, but can be limiting if you want more of a big-picture app.
Kubera links to many accounts and can actually link up your car to your account by using the VIN. Besides cryptocurrency, you can also integrate the value of any domain names you own and track your home value with the latest market data from Zillow. Kubera offers a clean interface that makes tracking your net worth easy.
Fees
Start a 14-day trial for $1 and $150/year after
Pros
Links your car through the VIN
Track home value through Zillow
Track your market value of web domains
Integrates seamlessly with cryptocurrency assets (even NFTs)
Cons
One of the most expensive apps on our list
Kubera
Get the latest balances from all major crypto wallets and exchanges , or simply add the coins to track them. Kubera supports DeFi assets on multiple chains like Ethereum, BSC, Polygon, Arbitrum, Optimism, Terra, Avalanche, Solana & Cosmos and even NFTs.
START FREE TRIAL
Best for Crypto Round Up Integration: RoundlyX
Rounding up your purchases may seem like a small way to get closer to your financial goals, but with RoundlyX, your spare change can go a long way.
Plus, like Kubera, RoundlyX also integrates with cryptocurrency assets to show you a more complete view of your net worth.
RoundlyX's mobile app allows you to easily set up an account and add your investments. The app works off dollar-cost averaging and allows you to add other investments like NFTs as well.
You can automatically make and track steady purchases over time with RoundlyX. This is a great way to dollar-cost-average into assets like BTC and make money with Bitcoin over time.
Roundup and recurring purchases can be paused or activated at any time. You can even purchase gift cards through Prizeout if you like giving them as gifts.
Overall, RoundlyX is a total game-changer to those interested in investing passively in crypto.
Fees
$1/month
Pros
Incredibly affordable
Supports cryptocurrency and other alternative currency formats
Cons
Can't sell crypto assets from the app directly
As the name implies, this particular app is best for budgeting, but it can also be used for tracking your net worth as well. YNAB is especially good for those of us who are struggling to live paycheck to paycheck. We've all been there, but that doesn't mean we can't change it through managing our finances.
YNAB allows you to do just that by applying zero-based budgeting principles to your finances. Plus, they offer online classes, a podcast, helpful guides, and even a YouTube channel to learn more about financial health.
Fees
$11.99/month or $84/year
Pros
Zero-based budgeting principles
Learning guide for better financial habits
Cons
Investment accounts have to be manually updated
Best for Total Customizability: PocketSmith
There are many options to choose from when it comes to PocketSmith, both in terms of choosing your pricing plan as well as handling your finances. PocketSmith offers customization tools to track your spending habits in a visual format that works well for many folks.
PocketSmith also lends itself to looking forward and backward in terms of your financial decisions. The forecasting feature allows you to see how your actions can pay off (sometimes literally) if you continue on the path you're on. You can even add comments and tags to really make the most of your net worth tracking.
Fees
Free or $9.95/month or $89.88/yearly or $19.95/month for premium
Pros
Lends visual aspect to budgeting
Categorization tools make customization easy
Cons
Tables can take a minute to comprehend
Best for Simplicity: Mint
One of the oldest budgeting apps out there, Mint is another free app you can use to track your net worth. Mint allows you to track your spending and savings by syncing bank accounts, retirement accounts, investments, credit cards, and many other financial accounts.
Mint even allows you to track your monthly bills. You can create budgeting categories and add tags as well to help you focus on particular budgeting concerns. Mint gives you free access to credit score monitoring tools.
Fees
Free
Pros
Time-tested app
Tracks monthly bills as well as net worth
Free
Cons
No joint accounts supported
No premium account to get rid of ads
How Does Your Net Worth Stack Up?
You should find it encouraging that over the last three years, net worth has increased for all age ranges under the age of 75. This is according to the Federal Reserve Board's Survey of Consumer Finances, which looks at net worth growth across age ranges as well as other demographic aspects.
So how does your net worth stack up against other people your age?
Many people in their early 20s who have just started a career and/or graduated college will most likely have a negative net worth. It takes time to build wealth and get established, especially when you're young.
Generally speaking, it's in your 30s that you really start laying the groundwork for the rest of your life. You may still be at a lower net worth, even negative, if you do have student loan debt, but you should begin to establish yourself in a career as well as any financial habits.
Many people in their 40s begin to invest in real estate in order to build their wealth through appreciating assets. While this might increase their savings in the short term, it's also a wise long-term goal as well. If they haven't bought a house yet, these folks may be looking for a place to settle down and continue on the upward trend of paying down debt as they increase their income and, subsequently, their net worth.
In your 50s and 60s, most people take a more aggressive approach to net worth. This could be in the form of building significant wealth or taking on riskier options when it comes to investments. As you age, your net worth will begin to determine how much you'll have to spend in retirement, so keep this in mind as you track your net worth over time.
Apps to Grow Your Net Worth
There are many ways you can improve your net worth. For example, you can reduce your liabilities by paying down debt, or you can increase your assets by adding to your savings. Doing both at the same time will definitely help increase your net worth towards the positive end.
If you're looking for a bit more help in the meantime, there are a handful of apps you can use. These apps will track your net worth as well as guide you towards making the most of your current assets.
Our Pick
Best robo-advisor
Betterment
Betterment is one of the pioneers of the robo-advisor approach to investing. After more than a decade in the business, we believe that no other platform offers as much value to its customers as Betterment.
READ REVIEW
Best micro-investing app
Acorns
With Acorns, automatically invest spare change from everyday purchases in expert-built portfolios recommended for you, easily save for retirement, get paid early, and more. Start in under 5 minutes and get a $20 bonus today!
GET YOUR BONUS
ACORNS REVIEW
Best free automated investing
M1 Finance
M1 Finance offers free automated investing as would any robo-advisor. And while it classifies as a robo-advisor in terms of features and functionality, it varies in a few key ways. Fund your account with $1,000+ and get a $30 bonus. It's that easy.
GET $30 NOW
Yieldstreet (Our Pick)
Yieldstreet matches investors with those who want to diversify their portfolios.
You will need at least $10,000 to fund your account, but there are relatively low management fees.
Investments made through Yieldstreet are backed by real assets, so you can invest in things like art, real estate, as well as marine investments as well.
Betterment
While Betterment doesn't have account fees for opening an account, it does require $10 in order to fund your account.
Betterment offers many portfolio options to choose from, including socially responsible options.
If you're hands-off when it comes to investing, check out Betterment.
Acorns
Acorns is another app that will invest your spare change in a variety of ways. After determining your risk tolerance and financial goals, Acorns will recommend one of five portfolios.
You can fund your account in a variety of ways, and plans start at $1 per month.
The highest amount you'll pay for a premium account is $5/month, so even then you're not paying much to invest in your future.
M1 Finance
If you're looking for an investment app that offers full-featured brokerage accounts but doesn't charge commissions, look no further than M1 Finance.
This particular app is really a robo-advisory service that helps you build a custom portfolio, but for a $100 account minimum and no management fees, it's a smart move.
Best Net Worth Trackers: Summary
| | | |
| --- | --- | --- |
| Company | Best For | Fees |
| Empower | Free, Automated Net Worth Tracking | Free |
| Betterment | Investing Integration | Free with 0.25% annual fee |
| Monarch Money | Collaboration with a Partner or Financial Advisor | $9.99/month or $89.99/year |
| Tiller Money | Spreadsheet Net Worth Tracking | $79/year |
| Kubera | Tracking Traditional & Crypto Portfolios | $150/year |
| RoundlyX | Crypto Round Up Integration | $1/month |
| YNAB | Budget Integration | $11.99/month or $84/year |
| PocketSmith | Total Customizability | Free or $9.95/month or $89.88/yearly or $19.95/month for premium |
| Mint | Simplicity | Free |
Tracking your net worth doesn't have to require a trip to your local accountant. We hope you've found this article useful in learning more about and even calculating your net worth. You've taken a crucial step in setting yourself up for a better financial future, and hopefully it's one of many.