With only 2 in 10 people feeling confident that they can achieve their financial goals and less than ⅓ of people having a written financial plan, even the most knowledgeable DIY-er will likely find themselves in need of expert guidance at some point.
How much should I contribute to my Roth IRA? Should I invest in art? Where should I invest $10k? These are all questions you could ask a financial advisor.
People who work with a financial advisor are more successful at achieving their goals, cut expenses and are more confident about their finances.
With so many different titles, specializations and service models out there, picking the right financial advisor can seem overwhelming. The upside of all these options is that you can find the right specialist to meet your unique needs. But you'll need to do some due diligence and a bit of work to find the advisor who is right for you.
Setting Expectations
Before you begin looking for financial advisors, take some time to picture exactly what you're expecting from working with an advisor. Are you looking for step-by-step guidance on cash flow management and goal setting, or simply advice in a specific area, like investments or taxes?
Do you want advice that you can implement on your own, or are you expecting hands-on money management? How often are you expecting to connect with the advisor, and through what channels? Do you have any unique circumstances that require specialist knowledge, such as a business or complicated family dynamics?
Here are some specific questions you should ask yourself to identify your needs:
Where am I at in my financial journey? What knowledge and experience do I have? Where do I need additional support?
What are my goals? Where do I want to be in 1 year? 5 years? 10+ years? What financial challenges am I facing in accomplishing these goals?
What are my expectations for your financial advisor? What specific expertise am I looking for? How often would I like to meet or talk to my advisor? How much involvement do I want in the day-to-day management of my money?
It's also important to be familiar with your rights and responsibilities as an investor and consumer before you start working with a professional advisor. The Consumer Financial Protection Bureau is a great resource.
Finding Qualified Advisors
Now that you've clarified your needs and expectations, it's time to start doing some research and making a short-list of advisors you'd like to meet with. A quick Google search should yield the names of many financial advisors in your area.
Regulators and professional bodies, like the American Institute of CPAs and the Financial Planning Association, usually have directories of members in good standing. Asking friends and family for recommendations is also a great idea.
Once you have your short-list, start digging a little deeper into each advisor. Check out their and their firm's websites, social media and LinkedIn profiles, and read comments and reviews from other clients.
Be sure to check with the Regulators to see if any ethical violations or disciplinary action have been recorded. The Financial Industry Regulatory Authority (FINRA) regulates financial advisors; the Securities and Exchange Commission (SEC) regulars investment advisors.
Alternatively, WiserAdvisor's financial advisor matching tool can do the work for you by connecting you with fiduciary financial advisors in your area.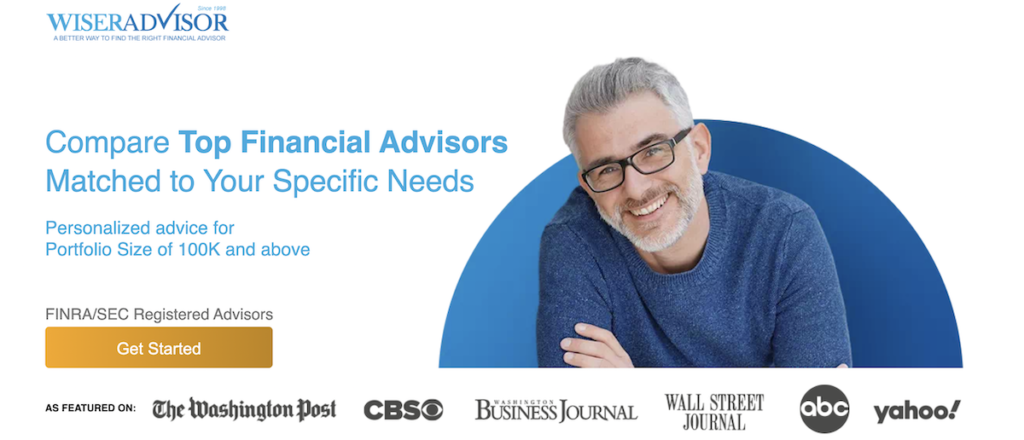 WiserAdvisor.com is a free, independent and unbiased matching service that helps individuals find and connect with the best financial advisor for their needs. Qualified consumers are provided a personalized match with 2-3 vetted advisors to compare.
Compare top financial advisors matched to your needs
WiserAdvisor
100% free to use
Answer a few questions and get matched with up to 3 local fiduciary advisors
Pre-screened financial advisors whose profile matches your financial needs
You are not obligated to hire any financial advisor that is matched to you
GET STARTED
Questions to Ask a Financial Advisor
Now that you've narrowed down your list, it's time to start interviewing potential advisors. Before you officially hire a financial advisor, there are 3 important questions you should have and it's not always about how much money you stand to make. Only once you are satisfied with the advisor's answer to these questions should you consider formalizing the relationship.
Ask about Qualifications & Experience
Financial advisor education and certification varies widely across different organizations and channels. It's important to ensure that your financial advisor has kept up with their continuing education requirements and industry changes. Most experienced advisors have earned additional certifications over the years.
Here are some questions to ask your potential advisor about their education and experience:
How long have you been serving clients? How long have you been with your current firm? What other roles have you held?
What courses & certifications have you completed? (ie. Certified Financial Planner/CFP, Chartered Professional Accountant/CPA, or Financial Analyst).
What type of clients do you typically work with? What challenges do your clients typically face? Are there clients that you are not a good fit for?
Ask about Ethics & Fiduciary Responsibility
A good financial advisor should always be working in their client's best interest – that is, they should only recommend products and strategies that are right for you. Not all advisors carry this fiduciary responsibility – some advisors are only required to recommend "suitable" products. It seems like a small distinction, but it's not.
Your advisor should be able to respond to these questions about fiduciary responsibility without hesitation:
Are you a fiduciary? What does that mean to you?
What are your ethical responsibilities as a financial advisor? How does your firm uphold these standards?
Have you ever had any complaints or disciplinary actions filed against you?
How do you handle conflicts of interest?
Ask about Fees & Investment Strategies
If you are satisfied with the advisor's experience and ethics, it's time to get to the nitty-gritty details – how your money will be managed, and what it will cost to work with this advisor.
The two most common advisor service models are commission-based and fee-only. Commissioned advisors typically do not charge for their time and advice, but are compensated with commission income when their clients purchase financial products from the companies they represent. Fee-only advisors typically charge by the hour for their time and advice and usually do not receive commissions.
Although people may balk at the idea of paying for advice that they can get for free, it's important to remember that nothing is ever free. Whatever the compensation model, you should feel confident that your advisor will always provide unbiased advice and put your best interests first.
The advisor should be able to answer these questions about compensation without hesitation:
How are you paid? Do you charge a fee for your time and advice? Do you receive commissions or referral fees for the sale of investments or other products and services? Do you pay commission or referral fees to others?
If Fee-Only, what is your hourly rate for advice and planning? How many hours are typically required for common services?
If you are considering hiring an advisor who will also manage your investments (investment management), they should be able to discuss their investment philosophy in a way that you understand, and they should answer the following questions about the products and services they offer:
What is your investment philosophy? How do you complete asset allocation for your clients? What benchmarks do you use?
What types of investment and other products and services do you offer (ie. mutual funds, securities, insurance products, annuities)?
Do you offer third-party products and services, or only your firm's products?
What are the fees and expenses of the investment products you use? Do any of your investments charge Deferred Sales Charges (DSCs) to leave the fund?
How involved are clients in the day-to-day management of their investments? How often do you provide statements? How frequently will we meet?
If we turn out not to be a good fit, how would we end our relationship? Would there be any penalties or fees for doing so?
Formalizing the Relationship
Even if the advisor has been able to answer all of your questions to your satisfaction, don't sign any agreements at your first meeting. Take some time to review your notes and make sure that this advisor can meet all your needs.
If you're seriously considering starting a relationship with this advisor, then it's time to ask them to prepare a formal proposal. You may need to provide your current financial statements and some background information so that their proposal will be accurate, but they should be able to explain what strategies and products they would like to explore with you and provide a complete breakdown of the fees and costs for working with them.
It's also important to ask the advisor if there will be any tax consequences to moving your investments or implementing any of their recommendations. Although it's always smart to consult with your own independent tax advisor (and a good financial advisor should recommend that you do), your financial advisor should have a good understanding of taxation and be able to provide guidance about possible tax consequences of their recommendations.
Finding a Financial Advisor or Planner
A competent and trusted financial advisor can be an essential part of your financial plan, helping you to reach your goals and stay on track.
Hopefully, this article leaves you feeling confident and prepared to start searching for a Financial Advisor, and empowers you to manage and evaluate the relationship going forward.
Ready to take the next step? WiserAdvisor's financial advisor matching tool can do the work for you by connecting you with fiduciary financial advisors in your area.
Compare top financial advisors matched to your needs
WiserAdvisor
100% free to use
Answer a few questions and get matched with up to 3 local fiduciary advisors
Pre-screened financial advisors whose profile matches your financial needs
You are not obligated to hire any financial advisor that is matched to you
GET STARTED
FAQs
What to know before hiring a financial advisor?
If you are looking for questions to ask a financial advisor in the first meeting, you will want to ask: what are your credentials, are you a fiduciary, how do you get paid, what services do you provide, what's your investment philosophy, what benchmarks do you use and what is your custodian?
How do I prepare for a financial advisor?
If you are preparing to meet with your financial advisor, you will want to do the following: list your assets and liabilities, outline your income and expenses, write down your goals, consider the needs of your family, and prepare a list of questions to ask your financial advisor in the first meeting.
When should you talk to a financial advisor?
Some personal finance experts state you should hire an advisor when you're able to save 20% of your annual income. Other experts state it's important to go to one when you are in need of specialized financial assistance stemming from an inheritance or you want to figure out your retirement plans, for example.