Who doesn't love daubing numbers to reveal fun patterns? Here are six bingo apps you can download to win real money today.
"B4" you get into paying for and playing local bingo games, you should check out bingo apps you can download for free to earn real money.
These apps let you play the same game you're used to, albeit with a few changes here and there to spice things up. Plus, these apps aren't just simple games you play to win points; instead, you can win real money from winning tournaments and cashing in on your luck.
If you're still not convinced that bingo apps can earn you cold hard cash, check out our article below. We'll introduce you to the concept of bingo apps as they're played on a digital interface, in addition to how you can make the most of these apps to improve your life.
We'll also give you examples of six bingo apps you can download to play for real money. These apps are free to download and often don't require you to put any skin (i.e. money) in the game.
Are you ready to see which bingo apps you can download for real money? Let's get started!
6 Bingo Apps to Win Real Money
You can find most of these apps in the App Store or on Galaxy Store. Whether or not you choose to put real money into play, it's very possible to make a few dollars here and there just by playing a few games of bingo. These are apps that pay to play.
1. Blackout Bingo – Our Pick!
Apple iOS: 4.5 / Galaxy Store: 4.5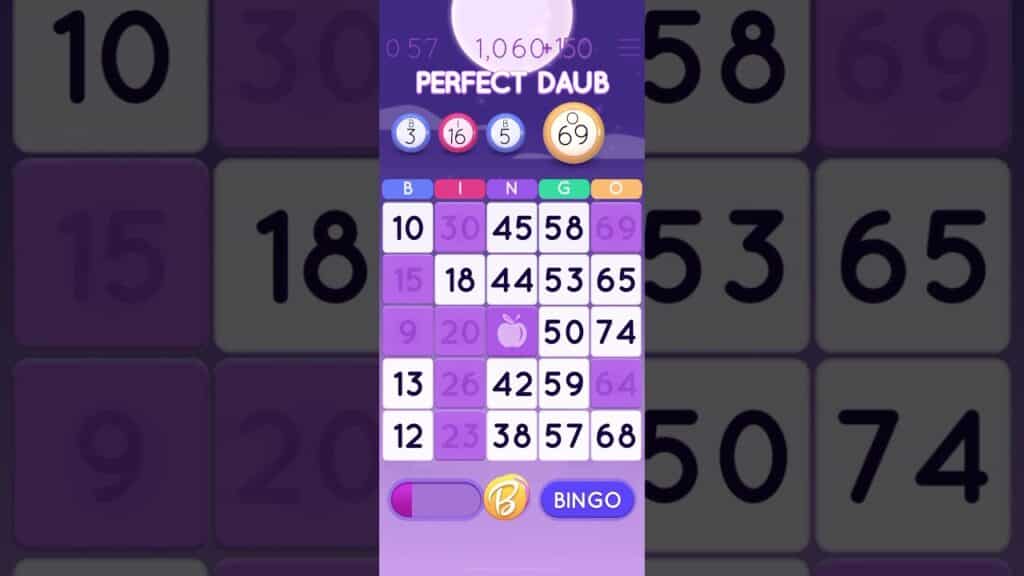 Blackout Bingo was developed by Big Run Studios Inc. and runs on the Skillz platform family. It is one of the best overall bingo apps you can download to earn real money. Available on both iOS and Android devices, Blackout Bingo only pays out via PayPal in about four to six weeks.
There's no minimum to cash out, but you should earn over $10 to avoid paying the $1.50 fee. In addition, you're not eligible to play Blackout Bingo if you're under 17 years of age and/or a resident of Arizona, Alaska, Connecticut, Delaware, Louisiana, Montana, South Carolina, South Dakota, or Tennessee.
This particular bingo app is more skills-based than others. Plus, it has an in-game story and smooth graphics without pesky ads. You can play practice games, go head-to-head, or even join brackets and tournaments to win money. Entry fees can be paid in z coins, which can be paid for or earned with free games.
Best for playing bingo for money
Blackout Bingo
This app lets you play bingo for money — make $100 today. Over 5 Million players agree Blackout Bingo is the fresh, social competitive twist to the classic game where you can win real world rewards and cash prizes (where available).
PLAY YOUR FIRST BINGO GAME
2. Bingo Cash
Apple iOS: 4.7 / Galaxy Store: 4.5
If you like an app that rewards you with daily gifts and bonuses, check out Bingo Cash. This app pays out via PayPal, Apple Pay, Visa, and Xsolla with no fees.
However, it's not available to individuals under 17 years of age or residents of Arizona, Alaska, Iowa, Louisiana, South Carolina, and Delaware.
Bingo Cash rewards referrals with a $15 bonus. Plus, you have bonus chances to win in-app diamonds and extra cash. This reliable app offers both one-on-one and tournament modes that are two minutes for each game.
There aren't any ads to contend with and you can cash out as low as $1. At the same time, you can win up to $70 per game.
Bingo Cash
In Bingo Cash (free game), you're paired to play in head-to-head games against real people and whoever plays the fastest, wins real cash. You won't get rich, but earning $50+ per win can add up quickly. Bingo Cash is 100% free to download.
DOWNLOAD FOR FREE
3. Bingo Clash
Apple iOS: 4.4 / Galaxy Store: 4.5
Playing Bingo Clash is best for beginners and those who might be skeptical about legit cash games. You can download Bingo Clash on your iOS and Android device and play as long as you're 18 years old, unless you're a resident of Illinois, Indiana, Louisiana, Nevada, Michigan, New York, Oregon, South Dakota, Wisconsin, or Washington.
Bingo Clash doesn't require real cash to play. Instead, you can use tickets to enter games and potentially win cash. Players can choose to compete one-on-one, with many other players, or in tournaments. Bingo Clash offers daily bonus tickets in addition to referral bonuses. Plus, you can even rewatch videos of your play to improve your next experience.
Cashing out with Bingo Clash requires $2 in rewards, though you'll pay a $1 fee for withdrawals under $10. Payouts come via PayPal, Apple Pay, Visa, Mastercard, or AmEx. If you want to win cash, it's best to enter games that start at $3 to gain experience. Games will go up to $30 for entry fees, though the winning pool for a single game varies from $20 to $2,000. It all depends on how lucky you are and how much you're willing to spend.
4. Golden Hearts Bingo
Apple iOS: N/A / Galaxy Store: N/A
Playing bingo on your phone can be fun, but Golden Hearts Bingo brings the game back to the desktop. This application is available to all residents 18 years or older, as long as they are 19 years or older in Alaska and Nevada and 21 years or older in Mississippi and Puerto Rico.
Golden Hearts Bingo pays out via PayPal, check, and bank ACH transfer. There is a 50-cent fee for withdrawing less than $25 if you choose PayPal. If you have a balance of $50 or more, you can cash out without penalty. Plus, you can donate your winnings to charity.
5. YATZY Bingo Tournament
Apple iOS: 4.7 / Galaxy Store: 4.5
YATZY Bingo Tournament is developed by Monsterplanet Corp. and is available for iOS and Android devices. YATZY Bingo Tournament is a mix of bingo and Yahtzee that's skill-based. If you don't want to ante up for a game, you can collect daily z coins to trade in for funds. However, you can easily enter a 24-hour bracket tournament for $3 to potentially win $33. Games start as low as $0.60 if you're skeptical of the tournament rules.
Residents of Arizona, Alaska, Connecticut, Delaware, Louisiana, Montana, South Carolina, South Dakota, and Tennessee need not read this description, a YATZY Bingo Tournament isn't available in these states. Individuals from other states must also be 17 years or older to participate.
If you qualify to play YATZY Bingo Tournament, you can cash out anytime you want via PayPal. This is the only method for cashing out, though you won't pay any fees to do so.
6. Bingo Tour
Apple iOS: 4.9 / Galaxy Store: 5.5
Available on both iOS and Android devices, Bingo Tour doesn't charge any fees. You can request a payout via Apple Pay, AmEx, Mastercard, or PayPal. However, it will take about seven days to receive your cashed-out earnings. Bingo Tour is not available in Arizona, Alaska, Connecticut, Delaware, Louisiana, Montana, South Carolina, South Dakota, Tennessee, and Vermont.
Bingo Tour offers skills-based games, whether you choose single or multiplayer tournaments. In-game power-ups include "GIMME MORE," "DAUB IT," and "EARN DOUBLE." You can enter tournaments and play for free, but you'll need real cash or tickets to enter prize pools. Plus, you can enter giveaways to win bonus cash and tickets as well.
What are Bingo Apps to Win Real Money?
Bingo apps are a great way to play the classic bingo game with a few twists. The typical game of marking off numbered spaces as they're called to reveal patterns embraces new life within a mobile application. Plus, developers continue to think of ways they can energize this game to appeal to younger audiences.
Many of the bingo apps you'll find can be fast-paced. While the game itself requires a certain rhythm, games played at a faster rate can increase the fun (and the stress in some cases!). This is especially true for tournaments, where you can compete with other players to win actual money. And yes, the same rule applies: if you're the first to achieve a particular pattern, yell "Bingo!" to claim your prize.
People tend to enjoy bingo because it's a game that doesn't require a lot of skill. Instead, you're relying on luck and a bit of strategy to achieve your goal. At the same time, you're still at the mercy of the numbers being called to decide your fate. Playing bingo alone can be fun, but it's often more enjoyable (and helpful) to have friends and family participate as well.
The best part about bingo apps is that you can participate for as long as you want, even if that's just for a single game here and there. Most games run two minutes, giving you plenty of time to fit games in between bus rides, commutes, and appointments. Plus, you don't have to commit a huge amount of money to play. Even some of the most prominent tournaments cost less than you'd spend on a single tank of gas.
How to Make the Most of Bingo Apps
Using your time on bingo apps efficiently requires stepping back from the game for a minute. Here are a few things you'll want to consider if you want to make the most of your bingo apps:
Is the app available in your state? Many states limit not only the age of competitors in a bingo game but also what gambling opportunities their residents have access to. Some states do not allow bingo, no matter what age you are.
How much time do you want to commit to playing on these apps? With each new game, you'll get the opportunity to win real cash, but there is a diminishing point of return. Playing bingo every second of the day isn't always going to help you make money without a job, though you could make $100 fast.
What is your experience and comfort level with bingo? The game isn't for everyone, but if you enjoy checking out of the world for a few minutes at a time, bingo might be the ticket. Just don't rely on it if you need cash now.
Are you willing to invest real money? As we've mentioned, not all of the apps above will require you to ante up. However, contributing to the pot can help you earn more if you're the first to achieve bingo. These apps are still game apps to win real money.
How many apps do you want to download? Starting with one or two apps can help you evaluate whether or not that app is something you'll keep on your home screen. If you don't like an app or just have issues loading it, you can easily move on to the next one and download it. The best apps are easy to download and play in addition to offering you real opportunities to win actual cash.
It's also a good idea to avoid bingo games with big promises and high minimum cashouts. It can take thousands of games to rack up even $10 to cash out, and if the minimum threshold is set at $50, chances are you'll be playing for years before you reach that goal. Playing bingo while navigating a ton of ads isn't fun either. The best way to figure out if you can benefit from a bingo app is to read the game policies first. If you don't see anything you object to, give it a try to see how you like it.
Cash In on Your Free Time with Bingo Apps
Playing bingo can be a great way to pass the time and make new memories with friends and family. If you're a fan of bingo, you might consider downloading one or more of these bingo apps we talked about above to potentially earn some real cash. At the same time, you don't have to pay to play in most cases. It's more about enjoying what you're doing and getting away from the world. After all, isn't it fun to yell "BINGO!" and win some money without having to use too much brain power?
FAQ
Are bingo apps for real money legit?
Yes, bingo apps that offer real money are legitimate. However, you should investigate each bingo app and do your due diligence to avoid scams and apps that could potentially be harmful. Finding apps that have been positively (and legitimately) reviewed can help weed out the good from the bad.
What's the best bingo app to play to earn real money?
The best bingo app to play for real money is the one that you gel with the best. Some apps stick to the basic principle of bingo, while others change it up a bit. If you like one type of play over another, stick with apps that offer that. 
Can you play bingo games without spending any real money? 
Yes, you can play bingo games without spending any real money. While you'll earn tickets or credits you can eventually redeem for points, it's often easier to increase your earnings if you spend some money up-front. However, that's something you'll have to consider before making that leap.