Investing any amount of money, whether you are investing $100,000 or little money — can be complicated if you don't have the time to do the due diligence.
That's where Acorns can help out even the savviest investors and help remove any hesitation about regularly investing in the stock market.
Acorns is a micro savings app similar to Qapital and Digit, but with a kick. This app saves you money but allows you to invest this money with a click of a button. Your savings can actually make you money, and you can even get started with a $10 bonus through this link. Here's our Acorns review.
$20 Bonus
Acorns
With Acorns, automatically invest spare change from everyday purchases in expert-built portfolios recommended for you, easily save for retirement, get paid early, and more. Start in under 5 minutes and get a $20 bonus today!
GET YOUR BONUS
What is Acorns?
Acorns is striving to become the best investing app to help make it easier to save and invest. CNBC calls it "the new millennial investing strategy."
Once you connect the app to a debit or credit card, it rounds up your purchases to the nearest dollar and funnels your digital change into an investment account.
More than that, you can invest for retirement, open a checking account, and set up investment accounts for your children, among other services that we'll cover in this Acorns review.
While some investment apps offer free stocks to incentivize you to join and Acorns is no different. Sign up to try it risk-free with a $10 sign up bonus.
Acorns in Action
While the Acorns app is beautifully designed, it also works on mobile web devices and desktops (which is very useful). If you don't know how to trade stocks, then you'll benefit from a more passive investing approach that Acorns offers.
Acorns Features
One feature that we love about Acorns is that the money that you're saving is being invested. By investing your spare change, it makes it simple for you to grow wealth over time.
So what's the big deal about investing?
Well, do your coworkers or friends all talk about their investment portfolios? You've been meaning to get in the stock game, but how do you start if you don't have a big wad of cash to invest?
We've got your answer. It's called Acorns, and it's an app that lets you start investing without risking big bucks.
Acorns Invest
Acorns Invest will you micro-invest your spare change from daily purchases, automatically.
Once you sign up, it will ask you some basic questions that help build your risk tolerance for your portfolio.
Acorns Invest is the the original leading micro investing app, helping more than 3 million customers invest in the background of life.
Acorns Later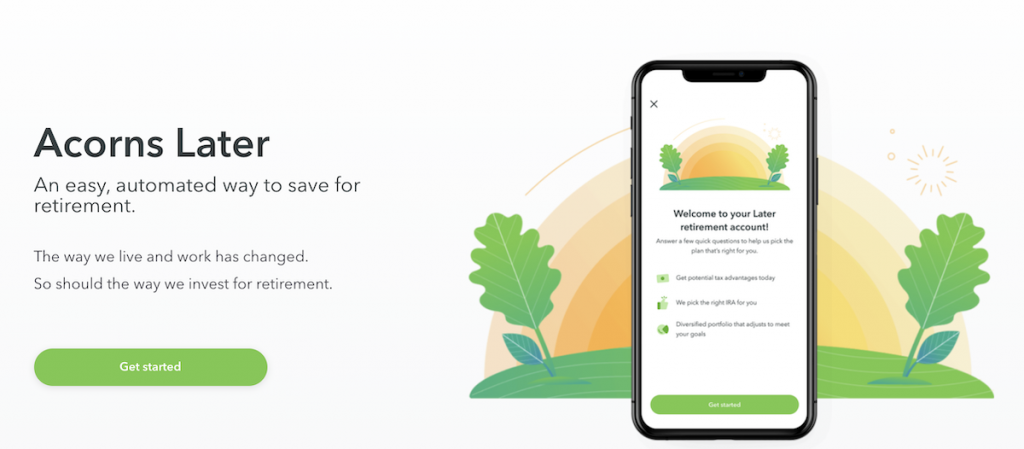 Acorns Later is an IRA, which stands for Individual Retirement Account. They'll automatically select the right type of IRA for your lifestyle and goals, each offering distinct tax advantages and eligibility.
Acorns Later is a retirement account that welcomed more than 100,000 customers in its first month.
Acorns Spend
Acorns Spend is the first checking account with a debit card that saves, invests, and earns for you. You can get digital direct deposit, mobile check deposit, check sending and free bank-to-bank transfers.
Acorns Spend also comes with a debit card designed to look and feel as good as it works, made of tungsten metal, with a matte finish and spot gloss treatment on the Acorns branch, to remind you what your Acorns can become.
With Acorns Spend, you get everything you do with Acorns Invest and Acorns Later, plus a fresh debit card and an FDIC-protected checking account that works much harder — all for just $3/month.
Acorns Early
Although children cannot invest on their own, Acorns Early lets you invest in the future of children in your life. Because it is a custodial account, the child you opened the account for will not be able to access the account until they reach adulthood.
Acorns Early works like your Acorns Invest and Later accounts: you can invest as little as $5 into a diversified portfolio of exchange-traded funds (ETFs). If you're interested in a financial wellness system for your children, be sure to check out the best debit cards for kids.
Acorns Earn
Acorns Earn allows more than 300 leading brands to invest a set amount or a percentage of your purchase price directly into your Acorns Invest account when you spend with them.
Acorns Earn rewards are typically invested in your Invest account between 90 and 120 days after you make a purchase with one of our partners. You should see any pending rewards in the "Earn more money" section within 3-7 business days of your transaction.
You can also now earn even more Earn Rewards through your Acorns Visa debit card. Partner restaurants and retailers may invest a percentage of any purchase you make on your Acorns Visa debit card into your Invest account, automatically.
Tips for making an eligible Acorns Earn purchase:
If you are using any other promotions, discounts, gift cards or coupons, make sure they do not disqualify you from receiving Earn Rewards
Ensure that ad-blockers or cookie blockers are disabled on your device. These can prevent Acorns from recognizing your purchase and may make you ineligible for Earn
Do not activate other cash back/reward sites or browser extensions. Otherwise, your purchase might be associated with a service other than Acorns
Click the offer link in the Acorns app and make the purchase in the same session
Check that you are using an Acorns-linked card
Acorns Grow
Acorns Grow is a bunch of resources and article posts by Acorns plus CNBC collaboration.
The online blog has categories such as saving, investing, earning, spending and borrowing.
If you want to stay on top of your personal finances, then the Acorns grow blog can help.
How Does Acorns Work?
It's pretty simple and the beautiful app does it for you after a few minutes of setting up the preferences you can:
Invest automatically: Set aside spare change or extra cash as you go about your day with Round-Ups and Recurring Investments.
Save for later: Get the easiest IRA, Acorns Later, and save for retirement without thinking about it.
Stick with it: Sit back and let your money grow over time in diversified portfolios constructed by experts.
Earn Found Money: The more you earn, the more you can save and invest! Grow faster the 250+ top brands that invest in you when you shop.
Grow your knowledge: Original content right in your app helps you grow your money knowledge on the go.
Spend Smarter (

New

): Pre-order the only checking account with a debit card that saves and invests for you, plus no minimum balance or overdraft fees. Qapital has this feature, but you aren't able to earn interest or invest on your savings accumulated. This is where Acorns shines.
What Does Acorns Invest In
Acorns is a robo-advisor, and like other robo-advisors it invests based on Modern Portfolio Theory (MPT), is a theory that constructs portfolios to maximize returns and limit losses in exchange traded funds (ETFs).
The current Investment indexes, as well as the corresponding ETFs are as follows (though not all funds and asset classes are currently in use in all portfolios):
Five different portfolio allocations are used which are based on your risk tolerance (Conservative, Moderately Conservative, Moderate, Moderately Aggressive, and Aggressive).
The specific asset allocations in each portfolio are as follows:
| Asset Class / Portfolio | Conservative | Moderately Conservative | Moderate | Moderately Aggressive | Aggressive |
| --- | --- | --- | --- | --- | --- |
| Large Company Stocks | N/A | 24% | 35% | 47% | 55% |
| Small Company Stocks | N/A | N/A | 2% | 3% | 5% |
| Short Term Government Bonds | 40% | N/A | N/A | N/A | N/A |
| Ultra Short Term Corporate Bonds | 40% | N/A | N/A | N/A | N/A |
| International Company Stocks | N/A | 12% | 18% | 24% | 30% |
| Ultra Short Term Government Bonds | 20% | N/A | N/A | N/A | N/A |
| Medium Company Stocks | N/A | 4% | 5% | 6% | 10% |
| Government and Corporate Bonds | N/A | 60% | 40% | 20% | N/A |
Your portfolio is rebalanced for you automatically, and you can reinvest your dividends so your money is in the market at all times.
Once your portfolio has been created, it will be rebalanced periodically to maintain the targeted asset allocations. You also have the benefit of automatic dividend reinvestments, so your money will remain fully invested at all times.
How Does Acorns Protect Your Information?
All of your data is protected with 256-bit encryption and never stored on your phone, tablet or computer.
You can learn about Acorn's security measures here.
Acorns Fees and Pricing
Simple pricing: Acorns is just $3 or $5 per month. No surprise fees, just surprise upgrades.
For more, check out the pricing page.
The Good and Bad
What we liked about Acorns
Easy and fast sign up in under 5 minutes.
Download Acorns and get started easily, with no minimum investment required.
You can easily set aside spare change or extra cash automatically as you go about your day.
Ability to grow your account over time with diversified portfolios constructed by experts.
What we didn't like about Acorns
The portfolios are pretty basic, which you can construct yourself in minutes (mainly VOO, VB, VWO, VNQ).
No tax-loss harvesting.
Your money is being invested, your returns are not predictable.
Acorns Alternatives
Wondering about other investing apps like Acorns?
So when choosing the best robo advisor I looked for ones that had tax-loss harvesting, low fees, and overall the best performance.
The best robo advisors I've found were:
Betterment: Best overall
Wealthfront: Best overall
Blooom: Best for 401(k) management
Acorns: Best for fees
I ended up using Acorns and Betterment and they've been going great so far and the platforms are very user-friendly.
Is Acorns Worth It?
Imagine if you could invest in your future without really noticing. Sign up in under 5 minutes and join over 4,000,000 people.