Believe it or not, most online stock trading brokerages offer sign up incentives these days. From free stocks to free cash, brokerages and investment platforms are willing to give you an incentive for doing business with them.
There are dozens of ways to get free shares of stock through these investing apps. My favorite part of personal finance and the investing experience is making sure my brokerage is doing its job. The investment apps below are some of the best, so you can build a solid portfolio of mutual funds, stocks and ETFs while scoring free shares of stock.
Next, we'll move on to ways anyone can get free stocks. Some of them don't require a deposit and you can still earn a free stock.
Collect Free Stocks From These Companies
Yes, there is such thing as free stocks. We know, we know. It sounds too good to be true, but you just have to know where to look.
Here's the run down on each of these investing apps:
Free Stock Eligibility Requirements
There are some investing apps giving out free stocks with no deposit for signing up. Be sure to check the eligibility requirements below to see if a sign up is all that is required or if you have to deposit money to claim the free stock.
Here's how to get your free stocks:
1. Public: $10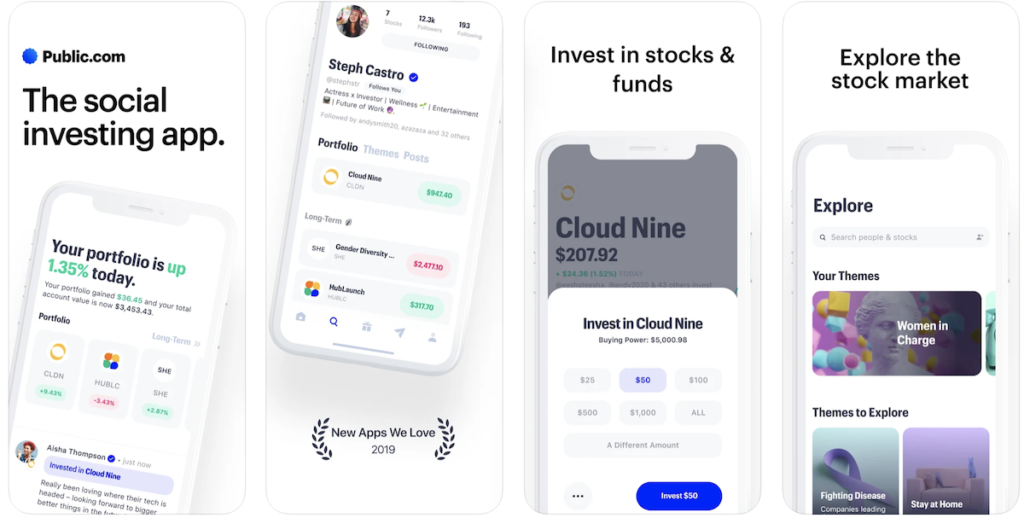 At Public, its mission is to open the markets to all which is why trades are commission-free and there are never any account minimums to set up or maintain.
Public never charge any hidden service or convenience fees because, well, frankly, there's nothing convenient about a convenience fee.
The company are proud to keep Public free and open to all so that everything you invest and earn stays all yours.
Download: iOS | Android | Desktop
Public Free Stock Promotion
Public makes it possible to buy any stock with any amount of money — commission-free. And what's more, they keep it simple at Public and that goes for the terms and rules of claiming a free stock.
Claiming a Free Stock is limited to one redemption per person and your account must be approved and active to qualify and receive the stock. The Free Stock is worth up to $20 and the amount designated for each redemption is random.
You can get $10 worth of Alphabet (Google), J&J, Facebook, Apple, Visa, Chase, Microsoft, Amazon, or Alibaba through this download link.
2. Robinhood: Between $2.50 and $225
Free stock value: Up to $225
Available on: Apple iOS (4.8 rating – 1,939,166 reviews) and Google Android (4.3 rating – 156,704 votes)
With apps like Robinhood, you can invest in stocks, options, cryptocurrencies and ETFs, all commission-free trades and start with as little as $1.
If you choose to open an account with Robinhood you can learn and understand financial markets so you can confidently invest in stocks, funds and options, all commission-free.
Robinhood has led the charge with commission-free trading and has left mostly all other brokerages scrambling to offer free trades in order to remain competitive — with the average trader benefiting immensely.
Robinhood's app and the beautiful interface make it simple to purchase stocks and options. Before buying a stock, coin, or any other investment, you can access real-time market data, read relevant news articles, and get notified about important events.
And of course, you can manage your portfolio on the go with the Robinhood app (iOS and Android).
Robinhood also allows you to set up customized news and notifications to stay on top of your stocks as casually or as relentlessly as you like. Controlling the flow of info is up to you.
Plus, Robinhood has a full range of products to help make your money work harder for you such as a Cash Management account, a savings account that comes with up to $1.25 million in FDIC coverage.
Download: iOS | Android | Desktop
Robinhood Free Stock Promotion
To receive your Robinhood free stock, sign up with this link. Robinhood will add 1 share of free stock to your account when signing up for a new account.
You'll be able to keep the stock or sell it after 2 trading days. You have a 1 in 150 chance of getting Microsoft ($220.8), Visa ($210.58), or Johnson & Johnson ($152.3).
The free stock is randomly chosen and individuals must sign up through this promotional page to be eligible.
3. Webull: Between $11 and $2,300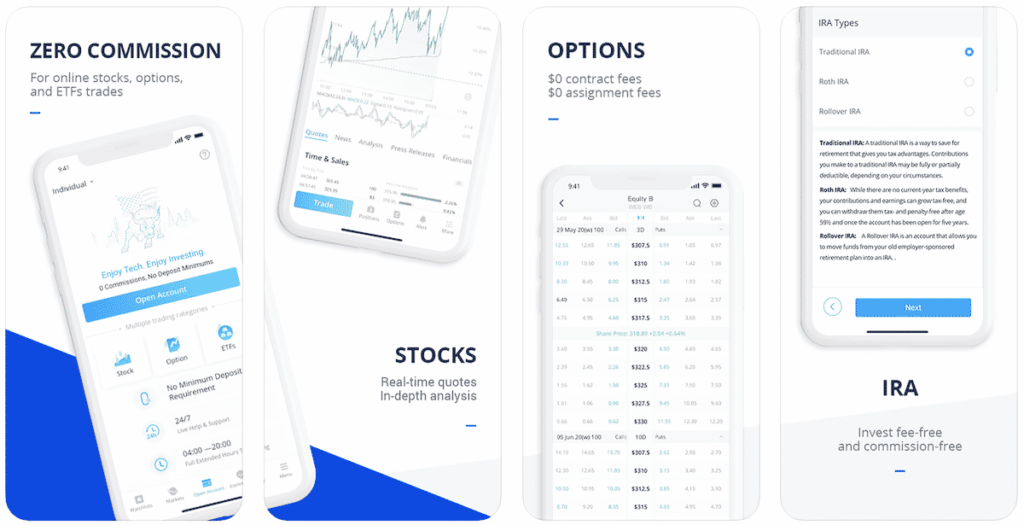 Free stock value: Account Opening and $5 Deposit: $11.00 – $2,300
Available on: Apple iOS (4.7 rating – 53,326 reviews) and Google Android (4.4 rating – 63,908 votes)
Webull is the zero-commission brokerage app that's new to the scene, having only opened its doors in 2018. Just like Robinhood, you can trade stocks, ETFs and options all for free (but no cryptocurrency).
An added benefit from Webull, the investing app provides you all the US market data you can handle. This includes a vast depth of news, real-time market data, analysis tools, and trading commissions completely free.
Webull definitely prides itself on continually improving its investing platform and bringing exciting and useful tools to help its users make smarter financial decisions. They app offers a subscription to Nasdaq TotalView for $24.99 that allows you to see Level II quotesGlossary:Level II is essentially the order book for Nasdaq stocks. When orders are placed, they are placed through many different market makers and other market participants. Level II will show you a ranked list of the best bid and ask prices from each of these participants, giving you detailed insight into the price action.. Having access to Level II data is crucial for the active trader.
If you're just a regular investor though, you'll enjoy the investing app as it offers you the ability to trade stocks, ETFs and options for free and you can access extended trading hours. Plus, they even offer you the ability to open an individual retirement accounts (IRA).
If all of those free options did not entice, perhaps their lucrative free stock promotion will.
Download: iOS | Android | Desktop
Webull Free Stock Promotion
Updated free stock promotion (3/1/2022-3/15/2022) –
Get 5 free stocks when you open and fund an account with Webull:
Open account to get 2 free stocks each valued between $3-$300
Make a deposit of ANY amount to get 3 FREE stocks each valued between $8-$3000!
Get free $5 crypto reward (3/1/2022-3/9/2022) –
Open a brokerage account and make an initial deposit of any amount between
Activate Webull crypto and complete ONE Crypto Trade (minimum $1).
Choose from one of the following cryptocurrencies worth $5: free BTC, SHIB, DOGE, ADA, ETH
(*This promotion offer is open only to eligible customers. Please refer to the Terms and Conditions for eligibility.)
Regular promotion –
For about 3 minutes of work, you can earn yourself a random stock (anything from Groupon to Tesla) whose value is anywhere between $11.00 and $2,300.
This is possible if you're a new user of Webull. They are currently running a free stock signup bonus when you signup through this link when you open a new account, which will give you a completely random stock. If you choose to deposit $5 when you sign up, you can get a second stock ($8 – $2,000 value).
There are no obligations to actually invest your money once you sign up – so it truly is free money.
Make a deposit of over $5 and you'll be rewarded two free stocks valued between $11 – $2,300
Wait three days to sell it and cash out
Take action: Signup for Webull and earn a free stock in minutes.
4. SoFi Invest: Up to $1,000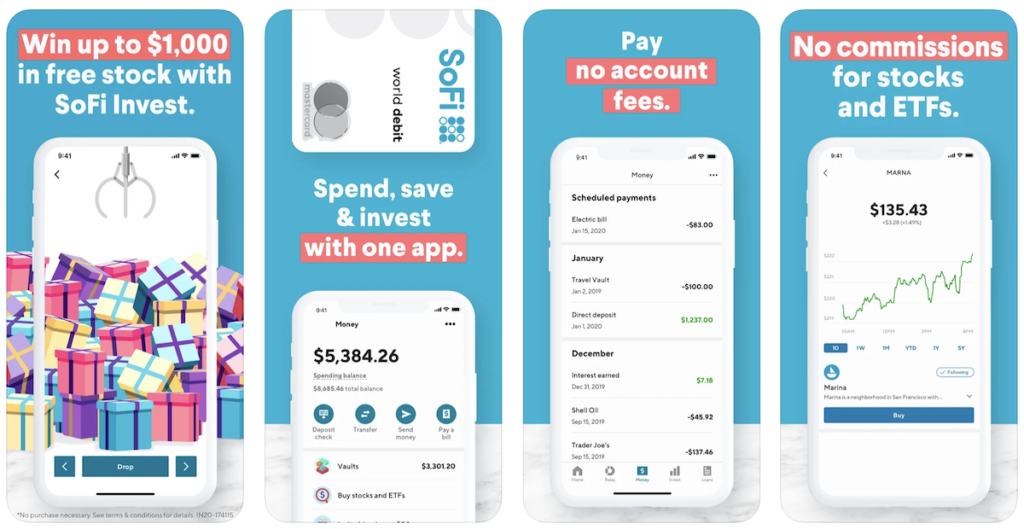 Free stock value: Up to $1,000
Available on: Apple iOS (4.8 rating – 62,118 reviews) and Google Android (4.8 rating – 60,135 votes)
SoFi has made one of the best apps for those who want to manage their money better. Not only can you invest your money (all for free), but it offers customers multiple products and services to help them manage their money, including credit cards, tracking your net worth, personal loans, student loans and more.
SoFi Invest offers the following:
Stocks, crypto, and automated investing—all in one place
No trading fees or commissions, & no account minimums to invest in stocks
Get a piece of popular stocks starting at $1 with Stock Bits
Buy and sell Bitcoin, Litecoin, and Ethereum
Discover trending stocks, ETFs
Automated investing for a hands-off approach
It is one of the best investing apps for beginners and experienced investors alike. The free stock promotion is just an icing on the cake.
Download: iOS | Android | Desktop
SoFi Invest Free Stock Promotion
SoFi has the Invest Claw Promotion running right now. You can win up to $1,000 in free stock when you download the app and open an Active Invest account.
Upon setting up your account, you will have the opportunity to play by engaging an electronic claw to "grab" a game piece. The following chart lists the total amount of Prizes available to be claimed by participating in the Promotion:
| Value | Odds |
| --- | --- |
| $1,000.00 | 0.028% |
| $100.00 | 1.662% |
| $25.00 | 3.324% |
| $10.00 | 9.498% |
| $5.00 | 85.488% |
Take action: Download the mobile app, tap Get Started, select Start Investing under active investing account. There you'll find step-by-step instructions on how to get started.
5. Acorns: $10
Free stock value: $10
Available on: Apple iOS (4.7 rating – 629,216 reviews) and Google Android (4.5 rating – 124,337 votes)
Acorns is an investing app for those who want to invest their spare change and have it grow into a large portfolio over time.
This investing app will round up your purchases and invest the difference on your behalf if you have automatic roundups enabled. This makes investing easy and effortless.
You'll be investing in professionally-created portfolios that match your financial goals and risk tolerance starting at only $3/mo and comes with Acorns Later which lets you set money aside in an IRA so you can save on taxes.
With Acorns, automatically invest spare change from everyday purchases in expert-built portfolios recommended for you, easily save for retirement, get paid early, and more. Start in under 5 minutes and get a $10 bonus today!
Download: iOS | Android | Desktop
Acorns Free Stock Promotion
Acorns is offering a $10 bonus when you sign up for a new account. After joining through this link, Acorns will deposit $10 into your account which can be invested or transferred into your bank account for a quick profit.
6. MooMoo: Up to $2,400
Free stock value: $1,000
Available on: Apple iOS (4.7 rating – 629,216 reviews) and Google Android (4.5 rating – 124,337 votes)
Moomoo offers comission-free trading and allows you to invest in stocks, ADRs, ETFs and options trading without paying any commissions. If you want to see real-time bids and asks at a certain price for stocks and trades, you'll also get access to free Level 2 market data.
Moomoo is a member of FINRA and SIPC, which protects securities customers of its members up to $500,000 — so your money is safe. Overall, moomoo offers a very user friendly platform to trade and invest stock even for an inexperienced investor.
Download: iOS | Android | Desktop
Moomoo Free Stock Promotion
Moomoo has an exclusive offer for new users where you can earn up to 3 free stocks! You must use our link to claim this promotion.
Here are the details:
Open an account and deposit $100+ for 2 free stocks worth between $4 and $200
Then, deposit $1,500+ for 2 more free stocks worth between $10 and $1,000
In total, that is 4 free stocks worth a minimum of $28 and a maximum of $2,400!
You have a 1 in 250 chance to win Tesla, Netflix, Apple, Facebook or Adobe. And a 1 in 100 chance to win Disney, Microsoft, Starbucks, IBM or Coca-Cola.
7. M1 Finance: $30
Free stock value: $30
Available on: Apple iOS (4.6 rating – 24,088 reviews) and Google Android (4.2 rating – 12,088 votes)
Invest, borrow, and spend, all in one easy-to-use app. No speculative day trading, just long-term wealth building with the M1 Finance app.
The M1 investment app was built with your financial well-being in mind. With M1, you can invest, borrow, and spend your money all in one place.
You set your strategy and they automate it, so you can concentrate on the big picture while we take care of the day-to-day.
Download: iOS | Android | Desktop
M1 Free Stock Promotion
First, get started by joining here.
Through the end of 2022, open an account and make a $1,000 deposit within 14 days to receive a $30 bonus and get 1-year free of M1 Plus ($125 value).
You can also get another $10 to put toward stock, but you'll need a friend. Once you've funded your account, click "Refer and Earn" to find a unique referral link to send to your friends. Once they've funded their accounts, you'll get a $10 sign up bonus.
Where can I get free stocks right now?
There are dozens of free stock trading apps that offer you free stocks for signing up. Apps like Robinhood will give you a free stock worth up to $225 and no minimum deposit is required. Another lucrative offer is Webull which will give you up to $2,300 with two free stocks, after an initial deposit of $5.
How does Robinhood give free stocks?
Online brokerage firms and apps like Stockpile, Stash Invest and Robinhood can give free stocks as part of their marketing initiatives. They gift new clients new stocks in hopes to have them as long-term customers. Even though they are free trading apps, they make money through from payment for order flow.
What is the best investing app?
The best brokerage account depends on if you're a new investor or an experienced investor or trader. If you are just starting out consider getting an Acorns account that is the best micro-investing app for new investors. If you want to dabble with options and use margin trading then consider getting Robinhood and upgrade to Robinhood Gold ($5 monthly fee).
Ways to Be Successful Trading Stocks
You can only get so far with getting a free stock or fee-free trading. If you want to build real wealth then you need a competitive advantage.
That's where free apps like Atom Finance can help.
It's no secret that investing money can help you make money fast and earning crazy returns is possible. But what stocks should you invest in? What companies are worth checking out? For me, I use Atom Finance which is a free investment research platform that puts institutional-quality tools and resources in the hands of the everyday investor.
Atom Finance can help you invest smarter. It has all the investment research tools you need in one platform, including institutional-quality resources that were once only available to Wall Street professionals. Definitely a must-have (and free to download) if you want to use investing to help you make money fast or day-trade. They also offer:
Hubs and Stock Screener are now available on mobile! A new way to compare – with Hubs, choose from dozens of relevant data points and instantly compare your favorite companies. After you've created a hub, give it a unique name and share it with friends so they can follow along. Use Atom's stock screener to filter for important metrics in real-time and seamlessly create a hub for companies that match your criteria.
Additionally, Atom is introducing Atom Chat – new real-time discussion feature built specifically for the Atom community. With Chat, you can discuss specific stocks and general topics with fellow investors in exclusive shareholder channels. Check out the highlights below and head over to Atom to start chatting.
How Viable is Online Stock Trading in 2022?
Trading is no doubt rising in the modern era. But what are the major causes behind it? And why is the younger generation of adults suddenly interested in trading at an increased rate?
Online trading has become a popular term among families in the United States, especially among Generation Y and millennials. These youngest generations just coming into adulthood have been embracing online trading extensively, in part because of the widespread of smartphones.
While the ability to have an effective computer in your pocket is certainly one of the major reasons why online trading has become so pervasive, technology is not the only reason why more than 15 million users already have various accounts on different trading platforms.
If you're one of the millions of millennials or have a child within that generation who has become interested in trading, then this article is perfect for you!
Continue reading to find out the 7 major reasons behind online stock trading in the modern world.
1. Reduced Costs
As a young adult, big budgets may not be the perfect solution to start a successful trading side hustle. Unlike all the traditional brokerage firms out there, online offers low fees to its up and coming traders.
You can start buying and selling stocks with as low as $5 and $10 on stock exchange markets, for example, IQ Options, CMC Markets, XM, and many others.
Exchange-traded funds (ETFs) trading for 10$ is also possible with brokerage firms that offer an ETF for as low as $4.95, for example, the famous Charles Schwab.
How cool is that?
2. No More Selfish Brokers!
Brokers are the best trading professionals, with hundreds of economists and analysts, however, they are not always the best choice for new traders.
Before the invasion of online trading in the modern era, brokerage firms dominated the old economic world. Brokers usually give advice that would most benefit them, a fact which leaves a new trader in a trap. But technology is here to resolve the problem of brokerage bias by bringing the whole trading process to the traders' hands. Thus, online trading allows investors like you to view their options and make their own decisions without waiting for a broker to give them a piece of advice on how to place their bets.
Brokers also often demanded a much heftier fee than the rates that online trading programs ask. While they do indeed offer years if not decades of experience, as the market has proven time and time again, past experience does not always lead to future success.
3. Monitor Investments
With advanced trading platforms and all of the amazing apps out there, as a trader, you can now track your profits or losses throughout the day by simply using your Smartphone. Monitoring investments has never been easier! Making wise decisions is easier than ever with all of the advanced research, reports, and analysis that modern brokerage firms provide online through trading platforms.
This ability to monitor also makes trading more fun and interactive. Whether or not that is a good thing economically speaking is another question, but just like people enjoy betting on sports and cards, online trading has become a way to make a small investment and bet on your ability to turn that into a much larger financial reward.
4. It's Easier Online!
Unlike past generations, the majority of young adults these days rely solely on the internet as their primary source for daily news. Newspapers and television news programs are no longer interesting for even the biggest world and economic news enthusiasts.
Instead, they rely on their powerful and developed smartphones to discover any events happening around the world including economic, social, and political events that may affect the market trends and its movements. This technological development made trading more intuitive for the present generations.
5. Speed is Important
The process of traditional trading can take days or even weeks, a fact which may be exhausting for tech-savvy individuals who believe that speed wins the race, not slow and steady.
Online trading offers tech enthusiasts fast transaction services and instant trading using a smartphone or a computer. And with the best investing apps available, trading gets more interesting, and transaction processes are even faster with funds transferred instantly from one account to another.
6. The Middlemen are on the Outside Looking in
In the past, an investor was obliged to at least call his broker before making a trade. However, online trading made the process much easier for the present generation, and it takes only a few clicks!
With the middlemen almost excluded, online trading became interesting for beginners who don't have enough money or connections to start trading with a full-service broker. However, this doesn't mean that brokers are totally eliminated, but modern brokerages facilitate the trading process when clicking the mouse. Thus, an online trader trades virtually with a broker, without being obliged to communicate verbally.
7. Unlimited Investment
If you are an offline trader, then you probably face a problem of investment limits, due to the fact that offline brokers impose a restricted amount of trades to benefit from the traders. But don't worry, online trading does not impose such restrictions on its traders who can also benefit from trading multiple stocks.
In the end, online trading is incredibly attractive to investors big and small because you don't have to be a business mogul or a wealthy celebrity to start your own successful trading business online.
Unlike complicated traditional trading, online platforms and apps offer investors real-time charts, local and global financial instruments, and signals for the best currency pairs, stock, indices, and commodities, as well as, a trader has a chance to follow the advice of professional traders in order to take the best investment decisions and start profiting instantly.
Get Free Stocks
When you're looking to get a free stock then there is no harm in signing for multiple brokerages. There are plenty of ways to get free money when you open an account and claim a stock bonus.
Most of these apps offer commission free trading and real time market data so you may find a new investment platform for self-directed trading or automated investing.
While I like Robinhood's free stock bonus when you sign up (no deposit required), Webull is the better offer that offers 2 free stocks when you meet deposit limits. The share of stock you receive will fluctuate with market movements.
Ready to get free stock?
Related:
Our Pick
Yieldstreet
Diversify your portfolio and earn passive income with investments starting at $500
Offers investors access to alternative investments in commercial real estate, marine projects and even art
Ability for individuals to invest in private structured credit deals
Investments backed by assets, which may provide some protection in event of default
BECOME A MEMBER