Monarch Money
Managing money can be complicated. Track all of your accounts in one place, collaborate with a partner, and create a long term plan to achieve your goals. Get personalized advice along the way.
SIGN UP NOW
The first step to financial health is knowing where you stand. Monarch is a rapidly growing platform that brings together everything you need to improve your financial health.
Monarch Money kicks things up a notch by linking practically all your financial accounts. You can link bank accounts, credit cards, loans, and any other assets you might have, such as retirement accounts. Monarch Money will sync with these accounts to bring you real-world account management.
You can easily share this data with your partner or with a financial advisor.
Monarch Money is available on web, iOS, and Android. You can sign up for a free trial, but you will have to sign up for a plan after that. Customization is possible with your accounts, so you can easily track your investments, spending, and net worth.
Let's learn more in our Monarch Money review.
What is Monarch Money?
Through Monarch, you get a fast and unique user experience, new features every month, great customer support, and an uncluttered experience with no distracting ads, never selling your financial data to third parties.
Whether your financial goals are to simply get organized, pay off student or lingering debt, or to save for larger financial goals, Monarch is the all-in-one personal finance tool to help achieve these goals.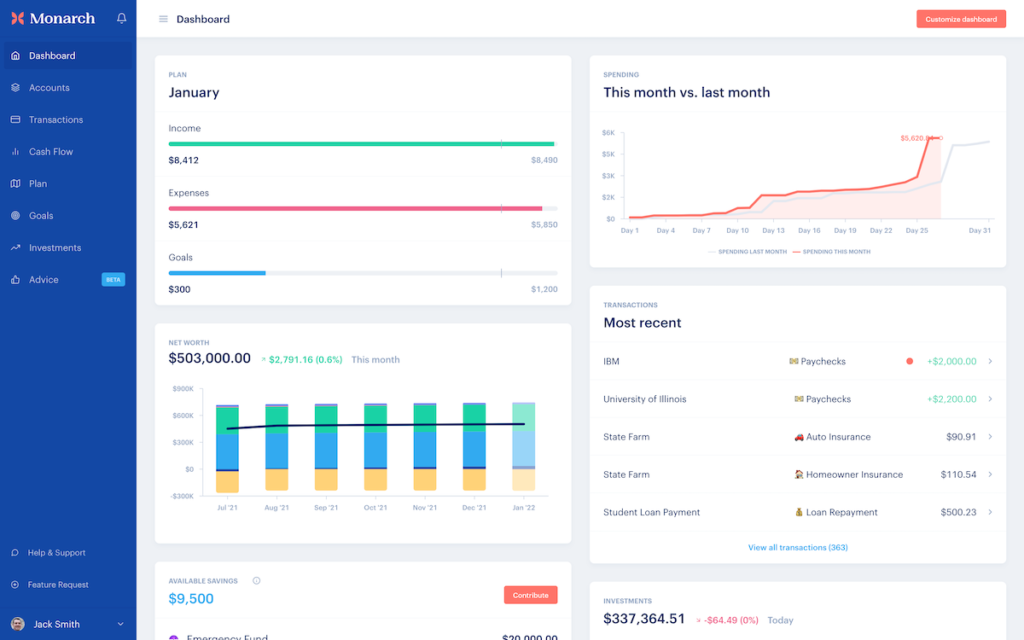 The hard work is on Monarch, all you have to do is answer a few key questions about yourself and set up a budget to automatically monitor your spending and get advice on how to build financial resilience. Monarch will notify you when you go over budget and help you get back on track.
Monarch is comparable to other net worth trackers and knows your finances can be across multiple accounts, apps, websites, and tools. You can seamlessly sync with 11,200+ financial institutions, so you'll always have a full and complete up-to-date view of your assets, liabilities, and spending in a safe and secure way.
Monarch protects your data with bank-level security. Your login details are never stored and access to your accounts is limited to read-only, they cannot move your money.
Fees
$9.99/month or $89.99/year
Pros
Integration tools make tracking net worth easy
Syncs to a wide variety of accounts
Cons
Key Benefits
Ad free experience & product road map influence
Monarch makes money through a low-cost subscription, which means that you get an ad free experience and Monarch can focus solely on improving your experience. Additionally, Monarch lets users vote on new features to implement next, ensuring the best products are being built, tailored to your needs.
Built in collaboration
Invite a partner to your household for a joint view of your finances, without having to merge any financial institutions. You will each get your own secure login and a joint understanding and contribution to your finances. You can even invite a financial advisor to help save for future financial goals.
Powerful investment tools
Monarch tracks all of your investment holdings in all accounts you have, allowing you to easily analyze your entire portfolio's performance and allocation. This includes investing apps like Robinhood and other leading brokerages.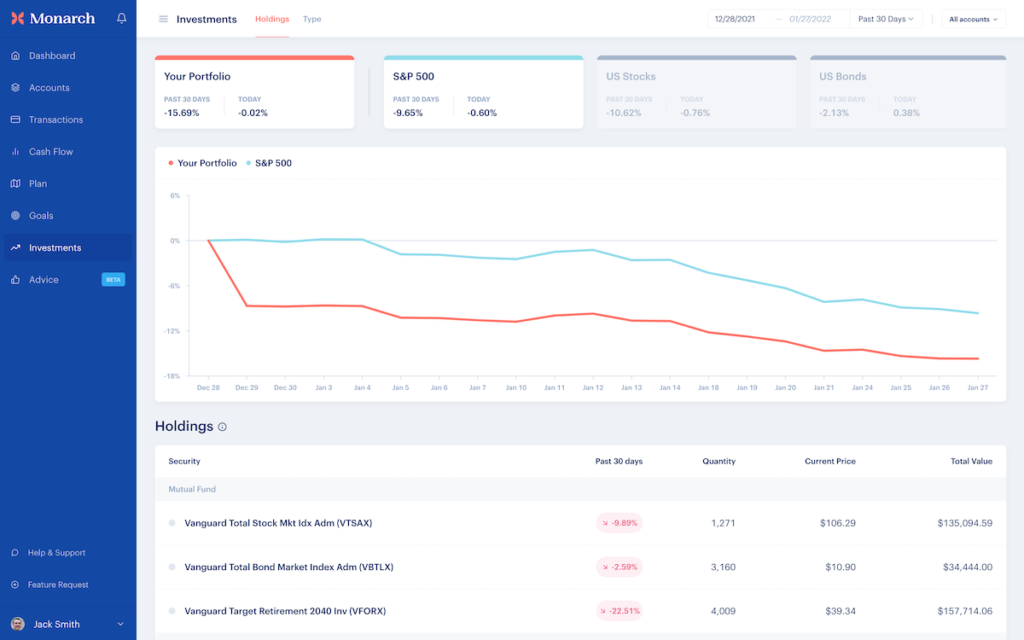 Improved data syncing
Monarch uses multiple data providers to optimize institution sync coverage. This means more institutions are supported (over 11,000 and counting), syncs happen faster, and you get clean data for balances, transactions, and investments.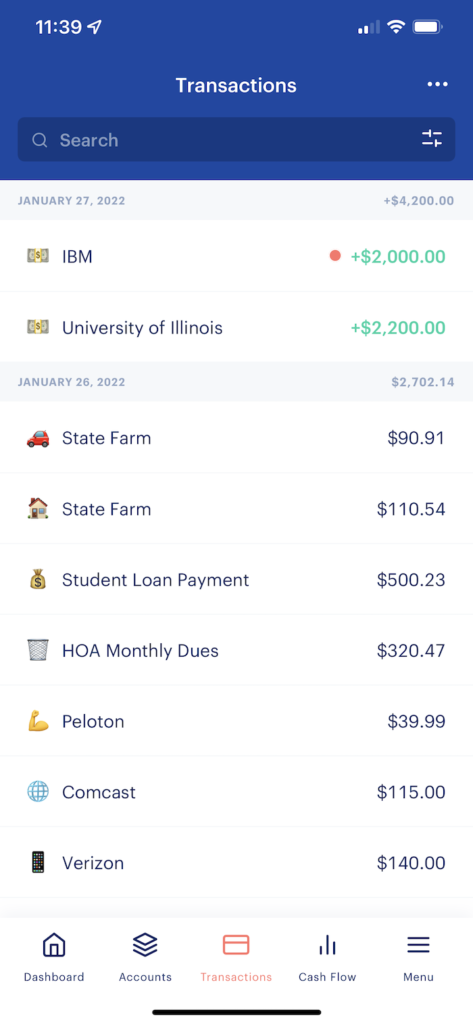 Plan for your financial future w modern intuitive design
Through Monarch's aesthetic, intuitive, and clean design across web and mobile, you can generate a financial plan that stretches years into the future. This helps you effectively plan and achieve your larger financial goals, while Monarch obsesses over the details to make sure every piece of the product is effective and easy to use.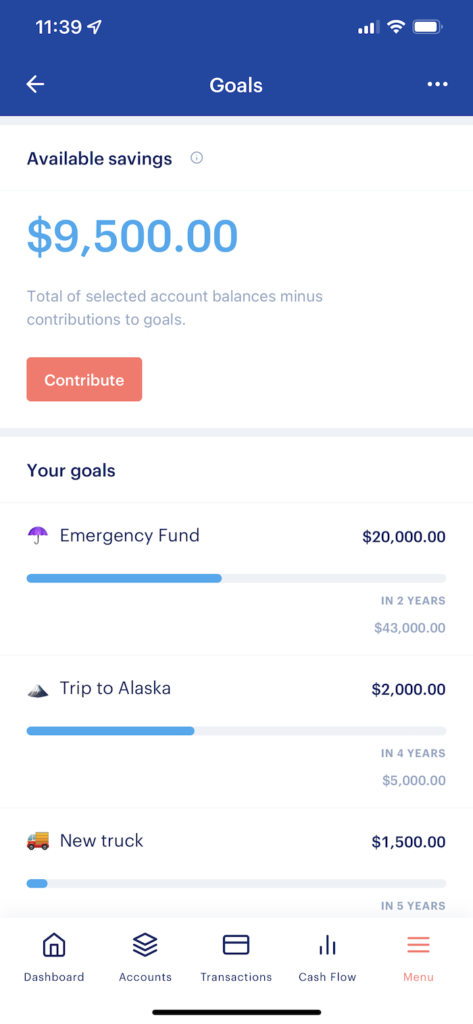 Customized dashboard and experience
Customize your money dashboard to prioritize what matters most to you. Modify your web or phone dashboards by moving widgets around, turning desired ones on and off, and setting up spending categories so you can track at home or on the go. If you want to find something within Monarch, easily filter and search for any transaction and save important receipts, images, attachments or notes.
Responsive customer support
Monarch's customer support team will quickly jump in and help you with any questions, comments, concerns, or issues that may arise! Monarch will always be there to help and keep it easy!
Is Monarch Money Available on All Platforms?
Staying in line with Monarch's ease and accessibility, you can access your financial profile across all platforms and devices: web, ios, and android.
Access Monarch from a web browser on a computer, laptop, or portable device, download Monarch from the App Store to access it on your favorite Apple devices, or download from the Google Play Store for Android access.
How Monarch Works?
Try Monarch free for 7 days with no credit card required to sign up. Connect your chosen institutions, start to organize your dashboard and transactions, and fall in love with how easy Monarch makes financial planning.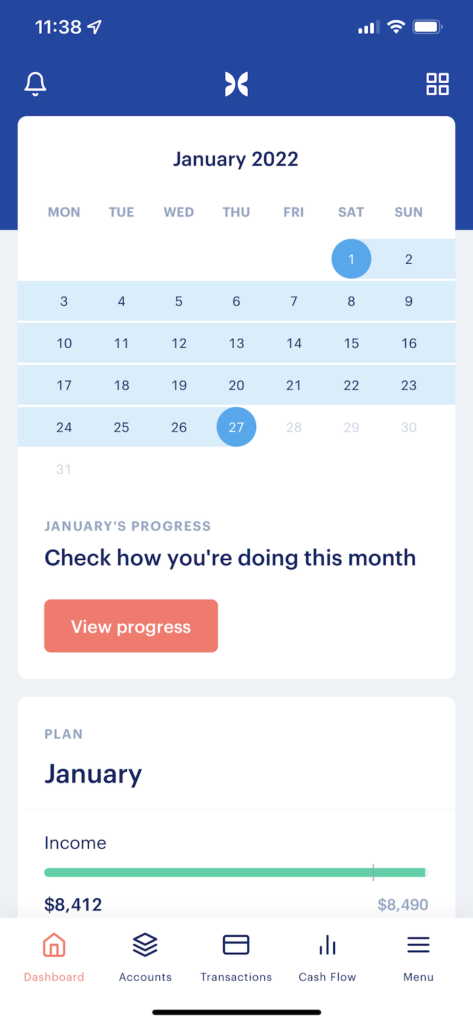 If you decide you love Monarch by the end of the trial, easily extend your relationship into one of the following payment plans.
Monthly Plan: $9.99
Save 25% with the Annual Plan: $89.99
Financial planning
Create a financial plan in minutes.
Forecast your cash flow monthly and annually to know where you are headed and don't worry, Monarch will notify you to make adjustments if you happen to get off track.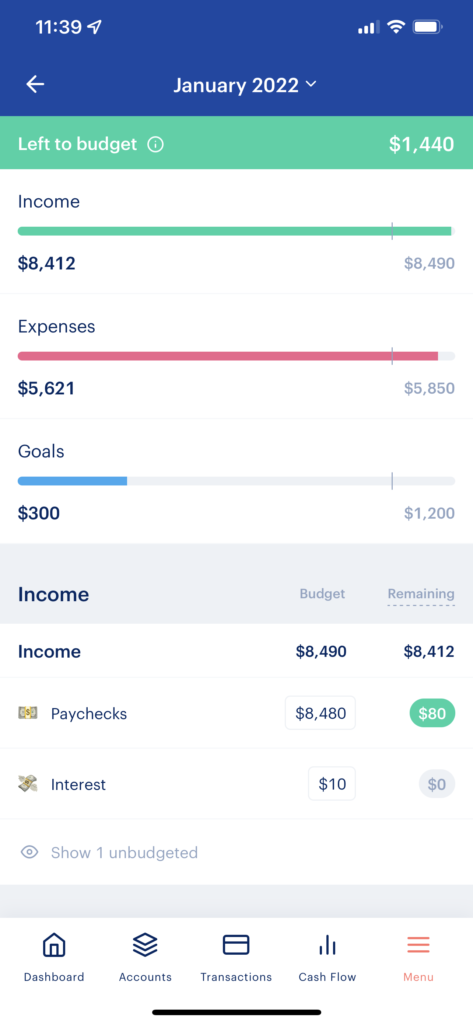 Customize monthly and annual plans by creating your own list of categories, like groceries, vacations, monthly payments, utilities, food & drink and more.
Share access to your lists and categories with your partner or financial advisor so you're always on the same page.
The budget view tells you how you're doing this month, helps keep you on track, and to always be prepared for planned and unplanned larger expenses.
Test out different scenarios and how they impact long-term finances, like retirement!
Achieve your goal in 3 easy steps with Monarch:

Create as many goals as desired with a planned target & monthly contribution
Complete monthly contribution & and divvy up available savings
Mark the goal complete!
Net worth tracking
Track all your assets and debts in one place.
Monarch's net worth tracker allows an in-depth view of your net worth on any device, so you always know where you stand. Track real estate, investment, bank accounts, credit cards, loans and more.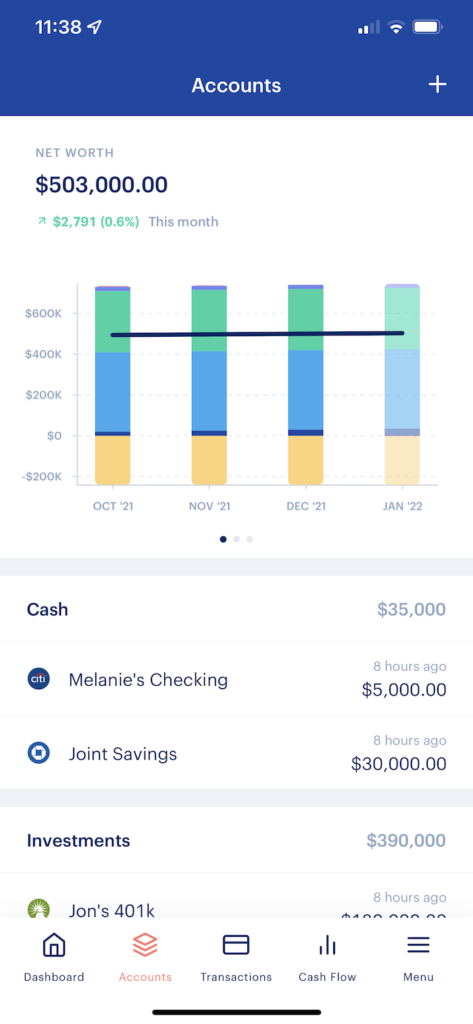 Securely sync all your financial accounts to pull in your balances and transactions
Monarch saves a snapshot of your account balances and net worth daily, so you can always view and chart your progress
Track your real estate property values automatically by syncing with Zillow Zestimates
Need to add something you don't see an option for? No problem, you can manually add valuables, like art or other collectibles.
Calculators: Mortgage, Debt Paydown, and Retirement
Mortgage calculator
Use Monarch's simple mortgage calculator to estimate your monthly mortgage payment. Enter the price of the home, your down payment, interest rate, property taxes and mortgage type to estimate your monthly payment breakdown.
Debt paydown calculator
By entering a few pieces of information, like current balance and interest rate, Monarch's calculator helps you understand how to accelerate your paydown plan toget you out of debt as soon as possible. To calculate, just enter your loan name, balance, minimum payment and interest. As you pay off each debt, the freed-up money is then applied to the next debt. Repeat this process with the Avalanche or Snowball method until you are debt free.
Retirement calculator
Tell Monarch your age and cash flow expectations including current age, post tax income, annual expenses along with some projections and the calculator will show you when you will be able to retire. You can tweak the variables to adjust your retirement plan and incorporate investment expectations at any time.
Apps like Monarch
Partner
Bank
Rating
Fees
Best for
Pros
Cons

Personal Capital

 

★

5.0

/5
Free
Free, Automated Net Worth Tracking
No cost to you to track your finances, integrates with Zillow
Doesn't integrate with some retirement accounts

Betterment

★

5.0

/5
Free with 0.25% annual fee
Investing Integration

Free account, m

anages investments passively
Annual fee higher than some other financial apps

Monarch Money

★

4.5

/5
$9.99/month or $89.99/year
Collaboration with a Partner or Financial Advisor

Integration tools make tracking net worth easy, s

yncs to a wide variety of accounts
Monthly cost

Tiller Money

★

4.0

/5
Free trial for 30 days then $79/year
Spreadsheet Net Worth Tracking

Spreadsheets galore, c

ustomization to the max

No mobile app, n

o credit score monitoring
Monarch is much more than other budgeting tools and apps, instead Monarch provides an all in one money management service, of course helping you budget your past finances, but more importantly focus and plan years into the future.
With no ads and user input into future products, Monarch truly focuses on creating innovative features users actually care about and need.
Monarch is the only app that has built in collaboration and syncing capabilities, with separate and secure logins. This provides users a way to join finances with partners, or even financial advisors, without merging bank accounts or personal information.
You'll only receive responses from real humans from Monarch's responsive customer support.
Based on Monarch reviews, there are thousands that are switching to Monarch for all their financial needs and leave its competitors who have outdated design, no product roadmap, single-user entry, and limited visibility behind.
To see more details about how Monarch compares to its competitors, please visit and read the following comparisons to Mint and YNAB.
Monarch FAQ's
Can my partner join my account? 
Yes! You can invite unlimited collaborators to your household at no extra cost. You'll each get your own login and a joint understanding of your finances. You can even invite a financial advisor or coach.
Is a credit card required to sign up?
Nope! You can sign up and use Monarch for free for 7 days without entering your credit card. At the end of your trial, you can pick one of the plans above and enter your payment method.
Why is there no free plan?
Charging a subscription aligns our incentives with yours and enables Monarch to exclusively focus on improving your financial life. It also means that they will never clutter the product with ads, try to sell you a credit card you don't need, or auction off your financial data to the highest bidder. 
Monarch Money Overview: Is it worth it?
So is Monarch Money legit? The bottom line is: Monarch Money truly helps you keep track of your finances and ensure future financial health for you and your loved ones. Monarch is easy to get set up on, and available everywhere.
The customized dashboard makes each user experience unique and truly tailored to the individual and their needs. The collaboration with separate logins and investment portfolio integration are features that make Monarch stand out from their competitors and easily justify the small subscription fee associated.
Overall, Monarch is definitely worth the investment into your future.
Monarch Money
Managing money can be complicated. Track all of your accounts in one place, collaborate with a partner, and create a long term plan to achieve your goals. Get personalized advice along the way.
SIGN UP NOW