Americans with a budget feel more confident, secure, and in control of their finances, according to data from the Certified Financial Planner Board of Standards. One of the most important responsibilities that one needs to take over as an adult, for themselves and/or their family, is managing the financial aspects of the household.
Managing the finances of a household would include keeping a keen eye on the income and expenditures, maintain a good savings rate and prepare a nest egg that can be used for any unforeseen future expenditures.
Though an important task, it can be a very complicated one and many do not know the first step to managing their finances. Though many people opt to get help from financial advisors that have a degree in Masters in finance, they can provide some insight but these professionals are generally costly.
However, with the development of today's technology, free help is available on your smartphones. There are many budgeting apps available on your phone which can help you manage your money for free.
The Best Budgeting Apps of 2023
I downloaded dozens of the best budgeting tools and narrowed down the best out of the bunch. My overall ranking system was predicated on how easy it was to help you do one thing and the number one rule in personal finance: spend less than you earn.
Here are a couple more rules to follow before choosing:
The budgeting app should be simple to use
No need to get fancy — you should be able to download and start using your budgeting app without any major complications. Creating a monthly budget should be easy but if you need a tutorial to get started — use another one.
It should be cheap or free
When you are looking to create a monthly budget — don't spend any money and start saving money. There are a lot of apps out there that are free and allow you to budget without cutting into your budget. Start with something simple and cheap and stick to it!
The best budgeting tools and apps can help you easily monitor, save and invest your money.
Best overall: Mint and Acorns
Mint is one of the most popular financial management applications among money-savvy individuals looking to handle their money better. Mint offers its users the opportunity to link in their investment accounts along with the budgeting tools that they offer. However, they are primarily known for the great work that they have done with making it easy to keep track of spending, create budgets you can stick to, and you can track your bills with ease.
Key Points
Manage your money — Track budgets, bills, and spending.
Monitor your money — Sell all your spending and financial accounts all in one place. You can get a complete picture of your financial health by bringing everything together.
Spend smarter — Find new ways to make your money go further is MintSights, which looks into your accounts and uncovers new ways to make every dollar count.
Track your IRS tax refunds — Check your refund status and date estimate in Mint when you file with TurboTax.
Set financial goals — You can set financial goals and budget towards them like a new house, paying off debt accounts, or anything you could imagine.
Pros
100% free budgeting app.
Free credit report summary.
Pulls all financial accounts into one central location
Automatic syncing of all your spending.
A very easy way to create a budget with spending categories and stick to it.
Easy way to track your net worth.
Cons
Ad targeting — recommended products and services.
Some bugs and glitches.
Best For
If you like to have a pre-determined and well-developed plan of how to use your money in the following month, then this tool is right for you. Mint allows you to create multiple categories for your budget and transactions. The app, once linked to your account, will pull transaction information from there to have it in one location. Mint can also be programmed to remind you to pay bills on time.
Price
Mint is free for everyone to use.
Available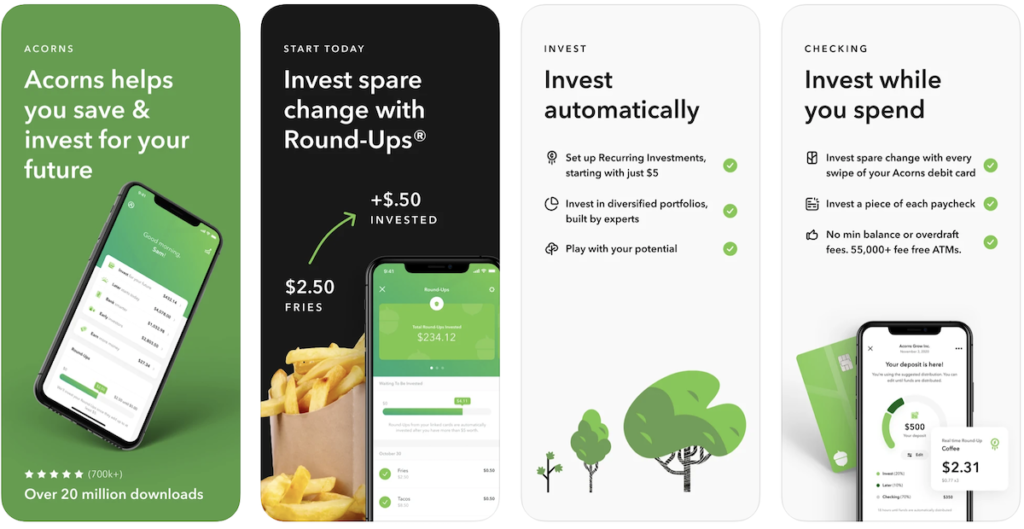 Acorns function primarily as an investment app rather than a budgeting app. This investing app will help you take the first step into investing your money. The application starts by taking virtual change out of one's bank account, splitting the difference and then investing the amount with basically no effort.
Key Points
Invest for your future

—

Invest spare change with automatic Round-Ups and set it and forget it with Recurring Investments. Your money is automatically invested into one of Acorns' diversified, ETF portfolios, built by experts.
Invest for retirement — Save for retirement with the app's easy IRA options, featuring SEP, Traditional, and Roth plans. In under 2 minutes, they can recommend the right plan for you.
Invest for your kids— Get Acorns Early, an UTMA/UGMA investment account for kids. Custom rewards for families. Invest automatically into a diversified, ETF portfolio, built by experts.
Bank smarter — The only checking account and heavy metal debit card that invests when you spend and automatically invests a portion of every paycheck.
Earn rewards — Shop 12,000+ brands that invest in you, search millions of jobs in the app's Job Finder, and earn exciting referral bonuses. The more you earn, the more you can save and invest.
Grow your knowledge — Custom financial literacy content, powered by Acorns and CNBC, right in your app.
Pros
Acorns is very simple to use and only takes a few minutes to set up an account.
You can set up recurring transfers and start saving money without even thinking about it.
No hidden fees, ever.
You can add socially-resonsible companies to your investment portfolio.
Cash back at select retailers.
Educational resources available right in the app.
Cons
Small investment portfolio.
High fee on small account balances.
Best For
Acorns is best for hands-off investors or people who struggle to save. The app will help you with rounding the transactions, set up recurring withdrawals and one-time transactions. The app has a shopping feature, Found Money, which when used to buy certain brands, these brands will auto-invest in your Acorns account.
Price
Acorns pricing is:
Acorns Lite: $1/month: Invest spare change, earn rewards, & get financial education.
Acorns Personal: $3/month: All-in-one investing, retirement, & checking—plus much more.
Acorns Family: $5/month: Save and invest for the whole family, invest for kids, earn extra rewards, get family financial education, plus retirement, checking, and personal savings and investing.
Available
Best budgeting app for hands-on users: YNAB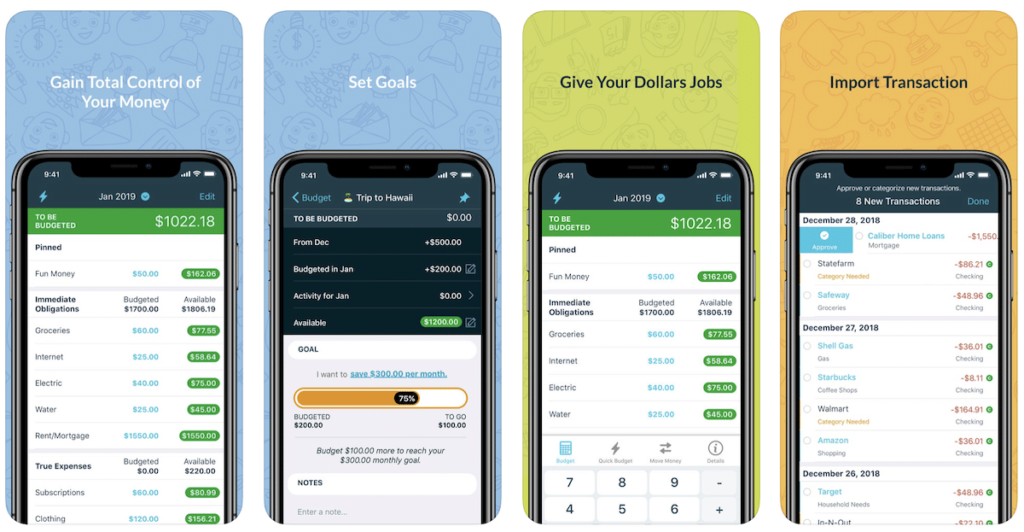 YNAB, which stands for You Need A Budget, is a paid app with a monthly subscription of $6.99 where the first-month fee is waived. The app claims that it has been able to help users save up to $200. If not as much, you will still end up saving a good amount of money.
The app helps you with making early decisions as to where the money is going to go. You will be asked to think ahead of time to the future commitments that you are going to put on the money that you have. this can range from investing to save up for a vacation to paying the bills to buy basic groceries. The app, like most other management apps, lets you link to your bank account.
Key Points
Bank syncing — Easily connect all your accounts in one place for a big-picture view.
Real-Time updates — View changes to your budget in real time across devices, making it simple to share finances with a partner.
Debt paydown tool — Create an easy-to-visualize plan to help you get out of debt for good.
Spending and savings targets — Track the progress on your financial priorities and reach your goals more quickly.
Detailed reporting — Visualize your spending trends with easily customizable reports.
Data privacy — Trust that your financial information will never be sold or shared. Your data belongs to you.
Pros
They don't use your data to make tailored offers for credit cards and other financial services since you're paying for YNAB.
YNAB is available on a variety of platforms.
There are three different ways to link your accounts: manually, automatically, or a combination of both.
YNAB offers a 34-day free test, which is enough time to check whether it works for you.
Cons
More expensive than most budgeting apps and tools.
There is no bill tracking feature in this app.
It has a steeper learning curve than the other budget apps.
Best For
For individuals who have attempted and failed at different budgeting strategies, or couples wanting to collaborate, YNAB is ideal.
It's also beneficial if you need assistance reducing debt, increasing your savings, or quitting the paycheck-to-paycheck cycle.
Price
YNAB starts at $11.99 per month, billed monthly. Or you can pay a one-time $84 payment for an annual plan, which saves you $59.
Available
Best tool to evaluate investment accounts: Empower
Empower is considered to be one of the best finance management applications currently available on our phones. The application can be used to track one's budget and link it with the various investment accounts to have that information show alongside. The intuitive and easy-to-use interface is very visual and is available on all platforms; desktop, laptop, phones, and tablets.
The application provides your investment information in graph form, categorized as an asset class, investment account or individual investment. One can also get professional help from investors. The primary advantage is the inclusion of investment accounts into the financial equation, giving a more wholesome picture.
Key Points
Manage all your accounts in one secure place — With Empower, you can see all of your accounts in one place. Manage your bank accounts, 401k, IRA, investments, stocks, and even debt, all on the dashboard.
Interactive cash flow tools — The Cash Flow graph allows you to see your total income and total expenses across all of your accounts, month over month.
Track your investments — See how well your investments are performing – and how they could do even better – with the Investment Checkup tool. Compare your current portfolio allocation to the ideal target allocation designed to minimize risk and maximize returns to meet your financial goals.
Plan for retirement — Build, manage, and forecast your retirement in one convenient place with your Retirement Planner.
Empower for Apple Watch — Set a spending target and track it on the go. Quickly check your status by day, week, month, or year. Access your spending simply by checking the date.
Pros
They offer the greatest free financial budgeting app on the internet.
Track your net worth.
Scan your portfolio for excessive fees.
Manage your cash flow.
Cons
Some financial accounts must require manual tracking.
If you want access to the human advisors, you'll need a minimum balance of $100,000 in investable assets.
Best For
Empower is best for high-net-worth investors who also want free financial management tools, tax optimization and access to human financial advisors.
Price
Empower is free for everyone to use.
Available
Best app for stopping spending: Mvelopes and Wally and GoodBudget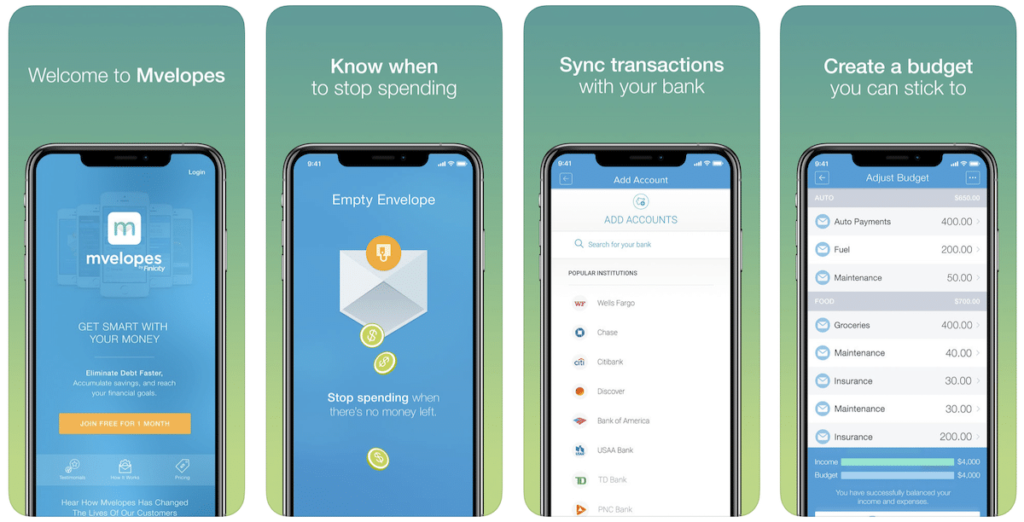 This application takes more of an old-school approach to budgeting and saving money, which is actually refreshing. Early in the day, people will divide up their cash in envelopes for specific tasks and only spend that much. Mvelopes create virtual envelopes in which the user can divide up their cash for specific categories.
The application goes through your credit cards and digital spending and creates a cash equivalent budgeting system and tracks the expenditures. This budgeting application takes care of most of the heavy lifting. However, it isn't free and has a basic plan starting at $5.97/mo or $69/yr.
Key Points
Import your bank and credit card accounts and track your spending within Mvelopes:
Adjust your budget on the go — Use the digital envelope budgeting method to organize and simplify your finances.
Easy way to stay on top of your budget — Categorized spending helps you make informed decisions when you shop.
All-in-one accounts screen — Lets you view your checking, savings and credit card balances in one place.
Versitile budgeting app — Assign transactions to envelop categories, including splitting individual transactions into separate categories
All features in your pocket — Complete, real-time synchronization with the Mvelopes web app. Money saving tips, ebooks, and videos inside the app.
Pros
You can create as many digital evelopes as you like.
All transactions automatically imported from linked financial accounts.
Ablility to add manual transactions.
New subscribers can get a 30-day free trial.
Cons
There is no free option, basic plan starts at $5.97 per month.
Not as many features as other budgeting apps, no bill payment features or investing monitoring.
A lot of manual data entering required.
Price
Basic: Everything you need to take control of your spending and make the most of your paycheck ($5.97/month or $69/year).
Premier: Pay off debt faster, get access to Premium tools and support, and learn how to manage your money effectively with its video master classes ($9.97/month or $99/year).
Plus The Ultimate Package: Pay off your debts fast and save more with expert help along the way. Get access to all of its tools with a quarterly meeting with a financial coach for a long-term plan that works ($19.97/ month or $199/year).
Available
Wally functions as a simple budgeting and financial management app, but it comes with some extra bells and whistles which, though an extra add on, are very interesting to explore. One of the features which have made Wally a fan favorite is that it supports all currencies, perfect for an international business official.
Every log in reminds you of the money in the bank account and the money left in the monthly budget. One can also save all receipts in the form of pictures for any future purpose.
Available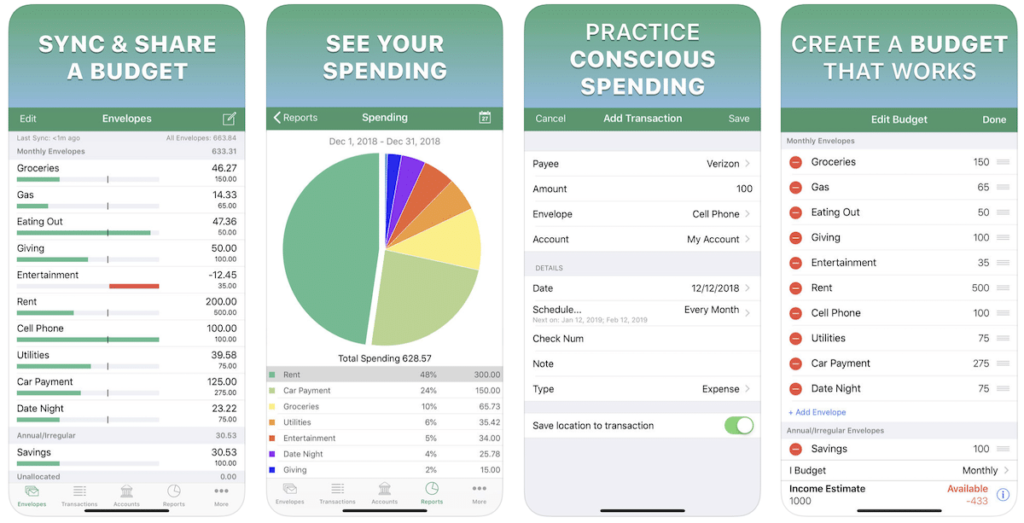 Good Budget, like Mvelopes, earlier discussed, is based on the old budgeting technique of using envelopes. In the beginning, the user is given ten envelopes, but one can boost this to unlimited envelopes after upgrading by paying $6 per month. Once one envelope is empty, you must stop spending, or move money from another envelope.
The application gives you the option to create a budgeting system for the whole home which is can be shared among the members.
Available
Best app for banking and budgeting: Simple and Spendee
Simple
Update: Simple Bank is now BBVA.
Simple doesn't function just as a budgeting app, but it's like a whole bank and it basically replaces your old account and comes with new budgeting features which can help you become more financially stable. Since the bank and budgeting app is on the same platform, everything becomes much easier for you.
The app tracks income and spending by itself and provides you with a goal feature to help you get motivated. The app will keep your spending on track using its copyrighted Safe-to-Spend feature.
Available
Apple iOS and Android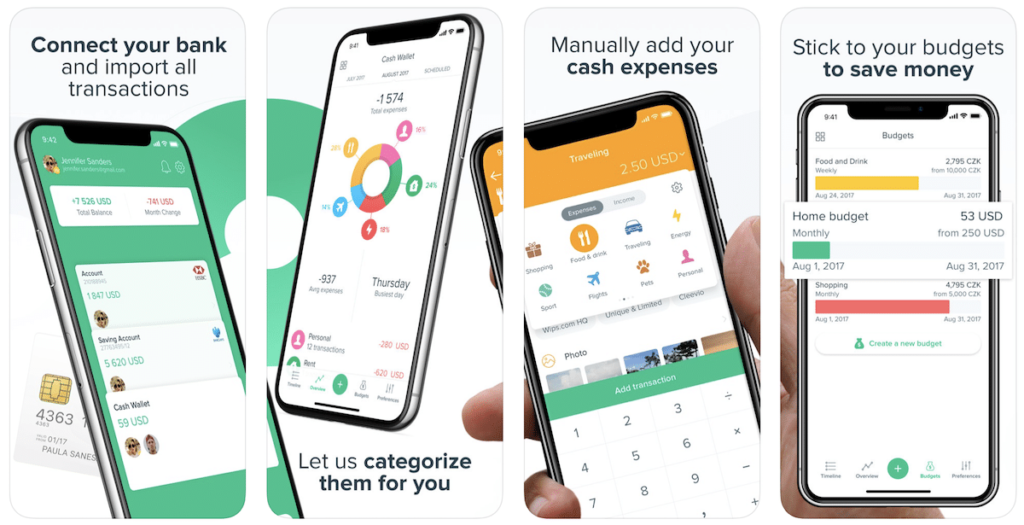 Spendee is another visual money management app whose purpose is to track and categorize one's transactions once synced with their bank account. The application also allows the user to share parts of their budget with other users.
The application can be linked with other virtual wallets and help keep on track with your budget. Though the app helps you share your budget with your friends, it gives you the option of how much can be shared to maintain privacy.
Available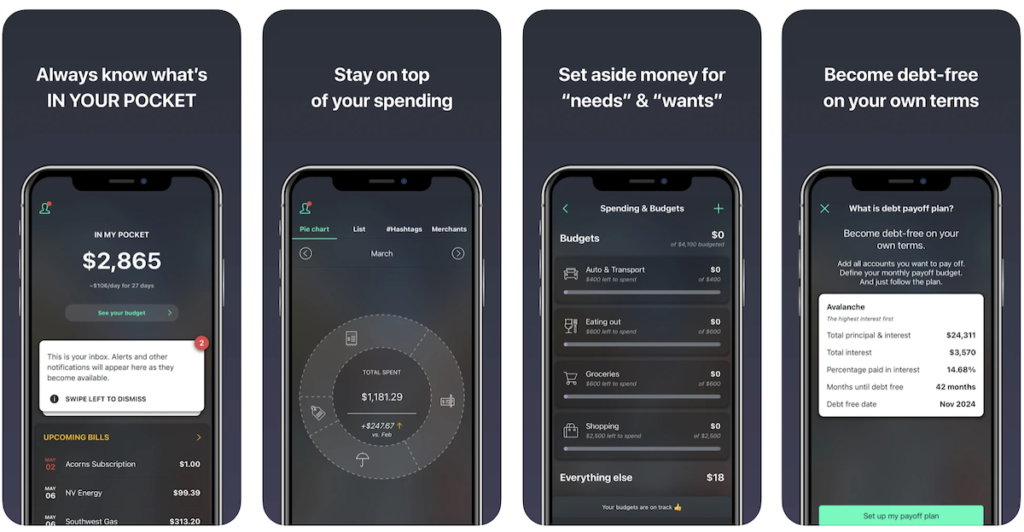 PocketGuard is a finance management application designed to not only help you budget your monthly spending but also actively find savings in your daily expenditure. The app is linked to your account and keeps an active eye on your transactions, after analyzing which the app will give the necessary advice to build a better budget.
PocketGuard will keep track of the recurring bills and at the same time look for better deals and plans that one can apply for. The application can also help with tracking individual bills and month-to-month trends.
Available
How to Budget on Low Income?
If you are looking to improve your budget (even if you're living paycheck to paycheck) then I can help you with some sound advice. In case you already know about the 50 20 30 budget rule, here are the easiest ways to budget for what life will inevitably throw your way.
College debt
Your education is the most important factor in your future success. Even so, debt from student loans can be the biggest burden on a young adult. Be sure to be diligent in your studies and do not waste your opportunities in college. With all of the scholarship opportunities that are dependent on maintaining grades, you have to be certain that you are going to maintain your GPA to keep those scholarships. Also, be sure to choose a college that is within your budget so that you don't start your adult life in massive debt. If your grades prevent you from continuing your education, it may prevent you from completing it.
Reliable transportation
Do not buy an extravagant vehicle. Find a well-maintained pre-owned vehicle and keep it well maintained. Be sure to weigh maintenance costs when purchasing an automobile. What may seem like a good deal may end up turning sour if you have to keep pouring money into a car just to keep it on the road. And weigh the cost of maintaining your current car with the cost of trading in for one that is more reliable. You may want that fancy car now, but a young person needs to focus on the future. Once that is secured, then you can consider a reliable and economic new automobile.
Buying a house
This will be the biggest financial decision of your life. Don't jump blindly into becoming a homeowner. Research home values, the neighborhood, and your own preferences on features you want your home to have. This is a decision that can affect your life for decades. Be sure to weigh every single option. Do your homework on the property and make sure that there are no structural defects. Also, make sure you are not in a floodplain. Examine the trees around the property for signs of rot or disease.
Retirement funding
Be sure, above all else, that you pay yourself first by opening a Roth IRA or Traditional IRA. Be sure to take advantage of your retirement options. Contribute to your 401(k) early and often. You may have to sacrifice when you are young, but it will pay off greatly when you are in your 60s and beyond.
Credit cards
Choose your credit card options responsibly. Avoid debt at all costs. Just because you have a card doesn't mean that you have to use it all of the time (even consider cutting cards up). The key is, never to spend more than you bring home. And always, always, always pay off your balance every month.
Remember all of these things. Hard work will get you through tough times that are to come. Always keep your future in mind. Save when you can, and avoid going into debt at any cost.
Personal Finance Statistics to Know in 2023
58% of Americans have less than $1,000 saved.
8% of US citizens believe they will never recover from the recession.
Millennial Americans have a median emergency savings of just $2,000.
20% of Americans don't save any of their annual income.
50% of American households live paycheck to paycheck.
Only 32% of US families maintain a household budget.
Americans hold a total of $1 trillion in credit card debt.
Our earnings are less, while the cost of living is getting higher. This is why it is important to have a good budgeting app handy to help you curb your expenses. This can help you make the right plans for your financial future.
More Budgeting Resources for You
If you want to work on your budget but aren't sure an app is the right way to go, there are other options you can try, such as:
Sources: