Beer money is the act of finding ways to make passive income in your free time. Some people buy a bunch of phones and use them to make money through these beer money apps.
However, you don't need to build a phone farm to earn off these money making apps that pay. You just need to download them, sign up, and start earning! Let's get started with the top beer money apps to use to make extra cash.
Best Beer Money Apps 2023
Here is a quick round-up of the best beer money apps.
Swagbucks is one of the highest paying beer money apps that actually works and pays via PayPal. Earn money by having videos play (easiest way to earn), play games, use their search engine or participate in focus groups. As a new member, you can conveniently earn up to $35 per survey.
You can even make money by using the InboxDollars search toolbar (an instant $1 credit) which, according to their website, could potentially net you up to $57 a year (passively). Most of the payouts on activities range from a few cents to a few dollars depending on what you choose. If you sign up before the end of this month they also give you a $5 free bonus just to give it a try.
This is a trivia app that hosts games over the Swagbucks LIVE app. Usually, the prizes are well over $1,000 so if you're privy to trivia, give it a go. What do I like about this beer money app? You'll get beer money just for testing your knowledge and they pay you straight cash without doing any work.
This company will pay you $50 a year to keep their app on your favorite internet browsing device and they also give away $10,000 each month if you sign up using PC. So you can possibly make more than $100.
Here's the deep review on the best beer money apps available.
1. Swagbucks (Best overall beer money app)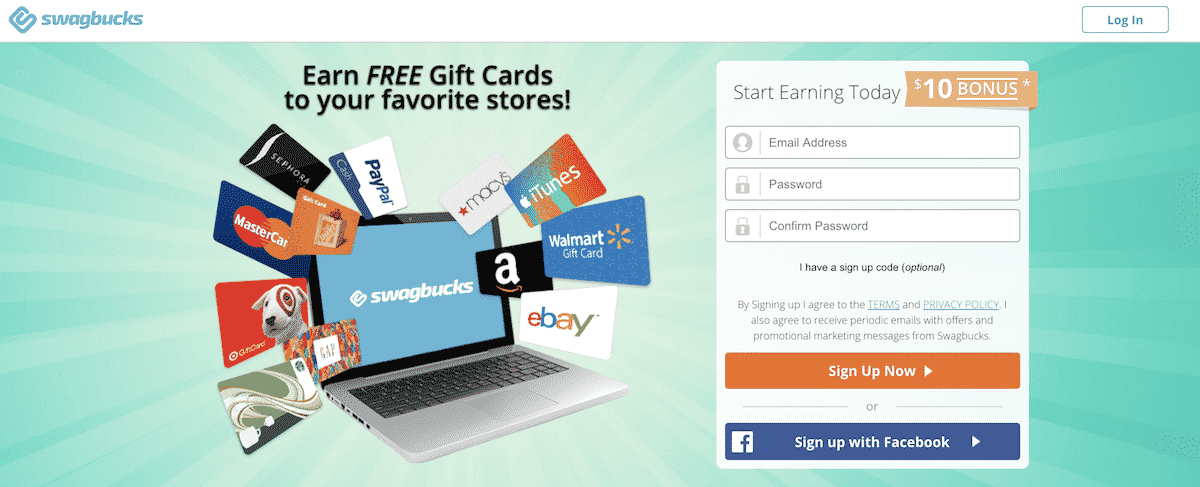 Swagbucks is a great phone farming app to earn some easy cash for just watching videos on your idle phone. This is probably the most used app to make beer money and most legitimate. Swagbucks to date has 40 Million members globally and has paid out over $250 million in rewards, according to Insider.
You can earn money by leaving videos playing on your phones but you can earn a lot of other ways too. Most members up to make up to $35 per survey in addition to watching videos. You can also earn money (via Paypal) for everyday activities like shopping, watching videos and searching the web. If you're interested you get started with a $10 sign up bonus.
2. InboxDollars (Best beer money app sign up bonus)
The next beer money app you can sign up for InboxDollars which pays you, in cash, to watch fun videos & take surveys. If you sign up before the end of this month, they also give you a $5 free bonus just to give it a try. By keeping the videos playing on one device (or even on your lunch break or during TV commercial breaks) you can earn and earn an extra $50 per month. More people should be using this beer money app to earn side income.
3. Swagbucks LIVE (Fun way to earn beer money)
This beer money app requires some more work but you basically answer trivia questions for real money. For example, what is the most popular drink in the world that does not contain alcohol? What the official national anthem of the United States of America? What is the Capital of Australia?
If you answered coffee, the star-spangled banner, and Canberra, then you may want to look into this beer money app that pays you huge cash prizes for your smarts. Today's prize is worth over $1,000! I'll be playing on my phones, will you?
Click here to download the free trivia app and start winning cash daily.
4. Nielsen Mobile (Most passive beer money app)
This beer money app is truly passive. By using the internet as you do every day, Nielsen invites you to make a difference – and you can make beer money too. I downloaded this app and make around $50-100 passively… it's a legit app to score passive income. You don't really have to do anything other than initially register your computer or phone.
Other Money-Making Apps That Pay Real Money
These beer money sites and apps that pay may not be as passive, but you can still make money (like $300 fast this month) without much work.
Taking online surveys with Survey Junkie to make extra money is a no-brainer! You definitely won't get rich or make hundreds of dollars per day with surveys alone, but you won't waste much time, and you can make some money the easy way. It is my #1 favorite survey app that pays same day:
Survey Junkie: This is a free survey app for your phone that pays you to take online surveys, participate in focus groups, and try new products. And, I really mean free all around – free to join and they don't charge anything to be a member (they will actually pay you in cash via PayPal).
Join for free through this link and get your free registration bonus.
Download: iOS | Android | Desktop
Solitaire Cube is an addicting game app to win money just for playing Solitaire on your phone. It's pretty easy to get started and the game will match you up with other players who have the same level of skills in real-time. Solitaire Cube includes tournaments and head-to-head competitions with real cash prizes (where available). That's what I was interested in most.
If you deposit money you can enter cash tournaments against other players. Cash outs are through PayPal and I had no issues withdrawing or depositing money. How to play? Stack cards into piles to sort them by their suit. Sound easy? It is!
Mistplay pays you to play games, no really it does. While earning money playing games sounds like a dream, this app lets you do just that.
How it works:
Install a game in your mixlist.
Play that game to start earning units.
Redeem your units for free gift cards.
That's it. To get started you can download the Android app and start playing and earning.
Download: iOS | Android | Desktop
Solitaire Cash is a free app where players can win real cash and prizes and earn rewards by playing an update on the classic solitaire game.
Solitaire Cash is a true contender for one of the best games that pay real money by depositing money to be matched with other players within the same skill level.
In these real-money tournaments, you all will get the same deck – so the game is totally fair and skill-based.
If you love the feeling of buying lotto tickets or scratch-offs and dreaming about the money you stand to win — then you would seriously enjoy playing Solitaire Cash.
This app can let you win up to $83 per win in minutes, however, you will need to to deposit money in order to play.
You may seem hesitant at first but this gaming app has over 174k+ positive reviews in the App Store.
You can win cash totally free, but you'll want to deposit $5 for cash tournaments to multiply your winnings.
Download: iOS
Arrived is a great real estate investing platform to use if you want a low minimum investment threshold for real estate investing. You can get started with as little as $100!
It's an especially useful tool to use if you want to diversify your portfolio and have someone else handle all the work that comes with being a landlord. All you really need to do is sign up, and collect your rental income each quarter.
The management fee is a modest 1% asset management fee, but it's worth it considering how easy it is to get started. You can sign up for free and view the different properties available to invest in. Buy shares of properties, earn rental income and appreciation — let Arrived take care of the rest.
Then you can literally beat the stock market year after year and start making money in your sleep. If you want to earn the big bucks then you can learn how to get started by getting more information from Arrived here.
Download: iOS | Android | Desktop
Saving money should be easy. Automate it with Rocket Money. Rocket Money users saved over $1,000,000 in the last month. I personally love that you can get your savings results in less than a minute. I effortlessly linked my financial accounts and Rocket Money went to work and I saved $200.39 in a few days of signing up. It found ways to lower my bills and cancel subscriptions so I can stop paying more for cable and internet than my neighbors — here's how it works:
Provide your account details.
Let Rocket Money save you money. Remember, it's 100% free to sign up.
Stop getting ripped off! Rocket Money can negotiate your bill down for you. Works with Comcast, Time Warner, Charter, and any other provider. Bottom line: It was able to save me some money. If you are at all interested in saving money, you should be using Rocket Money.
Download: iOS | Android | Desktop
Looking for the best cash back app where you just download it once and you'll get passive income for the rest of your life? I'm not exaggerating either — the Dosh app is the free cash back app that finds you money for shopping, dining out, and booking hotels and travel activities with more than 100,000 merchants and brands nationwide. This legitimate app not only allows you to get cash back on everyday purchases, but no receipt scanning is required. It has over 100K positive reviews on the App Store (best cash back app).
Pro Tip: Click to get claim $1 free after linking your first card with Dosh.
Download: iOS | Android | Desktop
Upside is the best cash back app — but for gas. You can literally make up to $5 per gas receipt each time you fill up. It also shows you the best gas station deals and the cheapest gas. There is no minimum for cash outs either so you can start getting money in your pocket as soon as today. To score the best gas prices, grocery prices, and restaurant offers with Upside, all you need is your phone and your receipt. There's no limit on how much you can earn, and you can even use it with other coupons, discounts, and loyalty programs. A true money-making app, if you ever needed one.
Claim your offer for the best gas price, restaurant or grocery offer
Snap a photo of your receipt or receipts
Profit! Earn cash back, and cash out whenever you want via PayPal, gift card or check. Click here to get a download link sent to your phone!
Download: iOS | Android | Desktop
The next money earning app you should know about is Ibotta. This money-making app actually gives you cash back on things you buy every day, even booze! You heard me right, you can make money for the booze you buy at groceries. Ibotta is a fun rebate app that lets you get cash back on your purchases from major stores like Walmart, Target and almost every grocery store all over the country. They are conveniently offering a $10 sign-up bonus after uploading your first receipt. So act fast. How it works:
Download the app and start a free account to browse deals in your area.
Got friends? Invite 3 friends and they'll credit you with $100.00. After that, get $10 for every person you refer.
Get paid and cash out cash via PayPal.
However, you do have to be 21 or older to take advantage of the booze deals.
Download: iOS | Android | Desktop
Have you heard of MyPoints? It's a cash-back site that pays you to shop online. I love it because it lets you earn cash for the shopping you would do anyway. And right now, you can earn a $10 Amazon gift card with your first purchase at any retailer through MyPoints! Here's how it works:
Sign up for MyPoints here (you just need to give them a name and email address).
MyPoints will instantly send you an email to confirm your email address. You'll need to click that to get the free gift card.
You'll also need to purchase $20 worth of products at any of the more than 1,900+ top retailers like Walmart, eBay, & Amazon. MyPoints will reward you with 1,750 bonus points that you can redeem for a $10 Amazon gift card. That's all! It's basically $10 off anything you buy.
Click here to claim a $10 Amazon Gift Card, it's free
Download: iOS | Android | Desktop
Yup, it's true! There are several companies out there that will give you free money just for signing up. Fetch Rewards is a mobile rewards app that pays you for shopping (from any store). This is a great way to make money, the easy way, and can add up to a large wad of cash with time.
Download: iOS | Android | Desktop
Get cash-back for items you would have bought anyway. You can do this by shopping online with Rakuten. Rakuten is my favorite way to make money when I shop online and right now they are offering a $10 sign up bonus this week through this link. Every time I shop online, I start at Rakuten and then I get cash back deposited into my PayPal account.
Download: iOS | Android | Desktop
There Will Always Be Beer Money Apps that Pay You
There you have it. If you've finished the list, you've just made at least $100 through these apps that pay you real money.We wish you the best of luck on your journey on how to make money!
Just remember, with most of these services, consistency is key, so be diligent about completing your daily check-in and continue to use the service if you want to earn more lucrative amounts of cash or free gift cards.
It's always better to use these opportunities as additional cash for smaller purchases, rather than to rely on them for a steady income.
You want to check out the latest post that shows you how to get free money through major companies. If you didn't claim your $5 bonuses already, don't forget to check out the best sign up bonuses below:
How Do You Get Paid Beer Money?
Some of these beer money apps pay cash, some pay gift cards, and some also offer ways to save, it just depends on how that company decides to pay out. If you want more ways to earn, next you can take a look at the best ways to make money fast.